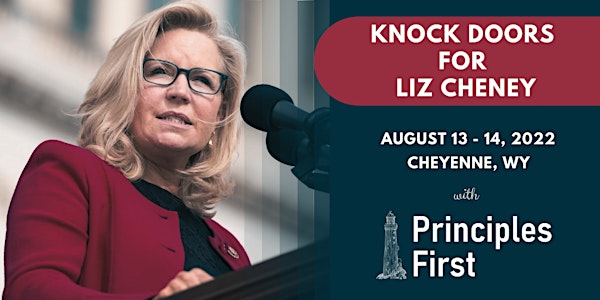 Defend Principle: Knock Doors for Liz Cheney in WY with Principles First
Liz Cheney is facing a primary challenge for investigating the attack on our Capitol. Help us help her and defend principle.
Date and time
August 13, 2022 · 9am - August 14, 2022 · 5pm MDT
About this event
Liz Cheney has been a principled champion in the U.S. House of Representatives. When the Capitol was attacked and the President from her own party wanted her to drop it - she persisted. Why? Because it was the right thing to do.
Now, her critics want to defeat her in a primary -- all because she had the audacity to serve on the January 6th Committee; all because she dared to do her job.
To champion principled leadership, we have to show up and put in the hard work to defend leaders like Liz who take the tough stands. Principles First'ers from around the country plan to descend on Cheyenne the weekend before the primary vote to help push Liz over the finish line.
You can read more about Liz on her website: https://cheneyforwyoming.com/
Don't just talk about principles - help us defend them. This is a meaningful action we can all take to make a difference. Join us as we walk the neighborhoods of Cheyenne and do our part to put principles first in Wyoming.