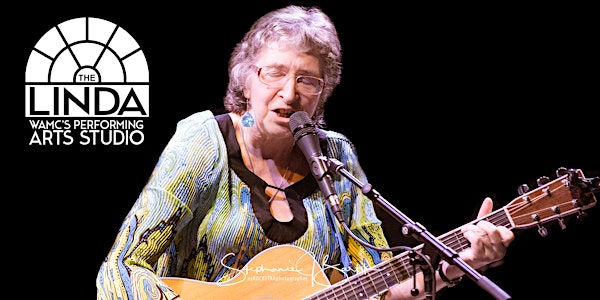 Deb Cavanaugh and Dandelion Wine: Open For Take Out Virtual Concert
Deb Cavanaugh and Dandelion Wine in a virtual concert Live at The Linda WAMC's Performing Arts Studio May 10 at 8 pm.
About this event
Singer-songwriter, multi-instrumentalist and roots singer Deb Cavanaugh lives in the foothills of the Taconic Mountains, in upstate New York. She started making music as a toddler singing before she spoke and singing harmony and rounds by age 3. Her dad exposed her to Classical, Big Band and Jazz. As a teenager, while studying classical voice, she became enamored with blues, rock and Motown. While studying classical music, she was given the opportunity to sing Duke Ellington's sacred music in a church choir directed by him. During the mid-70s, Deb met her future husband and hitchhiked with him across the country to San Francisco, jumping into the world of rock and roll. They formed the band General Eclectic. After moving back and forth from coast to coast, sometimes in a VW bus, they eventually found their way to upstate New York. After spending her next twenty years immersed in the folk music community, she now combines all of her musical influences writing and performing songs in a variety of styles.​
​ She plays many genres, including rock and roll, jazz, blues, children's songs, folk and more. She incorporates traditional American culture into her events with the mountain dulcimer and limberjack as well as making crankie rolls, another American tradition. Deb also teaches Music Together®, an early-education research-based program for families with young children.
They say that variety is the spice of life, and Deb sets out to prove this in her many endeavors.
-This concert will be available for live viewing at 8 pm Monday May 10th and the replay will be available until May 11th at 11:59 pm.
-Tickets to the replay of this concert will be available until May 11th at 11:59 pm.
-You are required to sign in or sign up for a YouTube account to comment or ask questions during the stream.
-For best streaming quality please ensure that you have a good WiFi or wired internet connection.
-For best audio experience please listen with a good speaker system or headphones.
-A private link to the live stream will be provided 2 hours prior to the virtual concert and will be available for 24 hours.
-Click the "view online content" link within your ticket confirmation email to get the link.