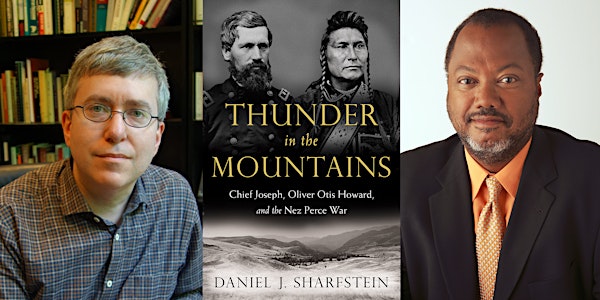 Daniel Sharfstein in Conversation with Brent Staples
When and where
Location
Brooklyn Historical Society 128 Pierrepont St Great Hall Brooklyn, NY 11201
Description
How do we understand a man who simultaneously championed the civil rights of some and violently curtailed the rights of others?
Gen. Oliver Otis Howard, the namesake of the historically Black Howard Unversity, was an abolitionist, Civil War hero, and commissioner of the Freedmen's Bureau, earning national adoration as a supporter of racial equality. Despite his seeming regard for civil rights, Howard also waged a dogged and brutal military campaign against the Nez Perce tribe in the Pacific Northwest and their leader, Chief Joseph, an outspoken opponent of the forced relocation of his people.
New York Times commentator Brent Staples leads a conversation on racial justice and reconstruction with the author Daniel Sharfstein, looking at how the story captured in Thunder in the Mountains: Chief Joseph, Oliver Otis Howard, and the Nez Perce War, had lasting repercussions on our contemporary social and political understanding of race in America.
Daniel Sharfstein in Conversation with Brent Staples on Race, Reconstruction, and Forced Relocation
Wednesday, May 24
Doors: 6:00 pm
Event: 6:30 pm
$10 / $5 for Members
BHS Members: to reserve tickets at the member price, click on "Tickets" and enter your Member ID on the following page after clicking on "Enter Promotional Code."
REFUND POLICY Brooklyn Historical Society requires 24 hours notice before the date of the event to refund a ticket. No refunds are provided after that point. No refunds are provided on the day of the event and all subsequent days.