Description
Creating Interactive Fiction Using Twine
Wednesdays 6:00 - 9:00 pm
6 class sessions from Apr 5 - May 17
Student Showcase on June 3

$220 per student
ABOUT THIS CLASS
Are you a writer seeking to explore interactive non-linear stories? Or a performer interested in exploring a new interface with your audience? Have mainstream video games that recycle the same old tired storylines and gory gimmicks left you hungry for new kinds of narratives?
This course focuses on the use of Twine to create live, choice-based performances guided by your audience's votes. We will combine live performance techniques with simple technology to create an engaging performance your audience will never forget.
Imagine creating a choose-your-own-adventure performance in which the audience determines the fate of your characters and every ending is a surprise! Or a performative horror piece where your audience must navigate twists and turns in a complex story while it unfolds onstage.
With this class, we will be learning the basics of creating fiction in Twine, game theory and audience participation methods and theater to create a performance with multiple endings and avenues for the audience to directly influence the story. You will walk away with mastery of a powerful tool for creating interactive plots and experience performing in front of a live audience. It's a unique opportunity to combine both humanity in technology into a powerful expressive art form.
ABOUT TWINE
If you're interested in making interactive fiction then there's no better place to start than Twine. Embraced by creatives from every walk of life, Twine is accessible to all; you don't need to be an experienced coder to create your first game. Twine has been lauded as a cultural force in the NY Times, The Guardian, Rhizome, and many more.
WHAT YOU'LL LEARN
Master the ins and outs of the Twine software
Construct interactive and non-linear stories
Hone your storytelling skills
Enhance live performances with audience interaction
Discover how (and why) minority communities have embraced Twine
Perform your creation at the class exhibition!
COURSE MATERIALS
A laptop and access to Google Docs



RECOMMENDED READING
Videogames for Humans: Twine Authors in Conversation edited by Merritt Kopas, and How to Make Games with Twine by Anna Anthropy
---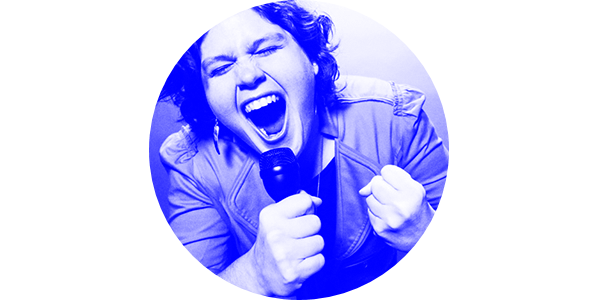 ABOUT YOUR INSTRUCTOR
Chelsea Hostetter is a Senior Interaction Designer at frog design. Initially trained in fine arts and linguistics from Carnegie Mellon University, she went on to study interaction design at the Austin Center for Design based on her love of designing video games and websites.
When not researching or designing, she can be found creating her own video games for hackathons like the Global Game Jam. She has made various interactive Twine games including a performative piece to propose to her now-husband, a fiction game about a wandering samurai, and a piece called "Impostor" which she performed at interaction16 in Helsinki and in Moscow, Russia.