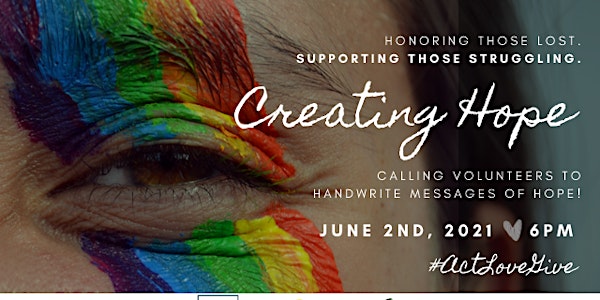 Creating Hope
Digital volunteer event honoring those lost to the Pulse tragedy
About this event
MUST REGISTER TO RECEIVE LINK TO JOIN.
Digital volunteer event honoring those lost to the Pulse tragedy in partnership between Letters Against Depression, Orlando United Assistance Center & Peer Support Space.
Calling volunteers of all backgrounds! "Creating Hope" is a space for us to come together as a community to write personalized messages of hope for those who are going through a tough time.
To honor the 49 lives lost on June 12th, 2016- our goal for this Creating Hope is to write 49 personalized, handwritten letters of hope to LGBTQ+ individuals struggling with mental health challenges, and other obstacles to mental wellness.
**We understand that, the nature of this event might be inflamatory; it takes emotional energy to reflect on the anniversary of the Pulse tragedy and to connect with our LGBTQ+ community who may be struggling right now. We gently encourage all to take care of themselves in whatever way you need. If this event is healing, cathartic, or just generally speaks to you and you have the emotional capactiy to pour from your cup - you are welcome to join us in our efforts to uplift our community members.**
HOW TO JOIN:
‣ ‣ Simply click the link below to join us on June 2nd at 6PM. Bring some paper, something to write with, and any extra stationary you may want.
‣ ‣ We will be sharing a link that allows you to go through the stories, ages, and locations of LGBTQ+ individuals that are currently struggling and asking for letters of love.
‣ ‣ Find someone you empathize with and write them a personalized message of hope.
‣ ‣ You can write a letter, you can write a quote, or draw a picture on a notecard and/or bookmark to be given to local individuals affected by the Pulse Tragedy.
‣ ‣ We will then mail all our letters to Letters Against Depression who will then match each note to the right person to ensure that we spread hope to those who need it most.
MORE ABOUT THE COLLABORATING AGENCIES:
Letters Against Depression has a simple, but robust mission: to help people afflicted with depression, anxiety, and other mental illnesses. They accomplish this by hand-writing letters of Hope and Support, spreading the message that "You are not alone", and that "You matter" and mailing them world-wide.
Peer Support Space, Inc. works to build, and be a center hub for, diverse peer communities. They hope this will be an opportunity to not just give back but to be in a nonjudgemental space where its "okay to not be okay" and to connect with others also on personal healing journeys.
Following the tragedy on June 12, 2016, the Orlando United Assistance Center (OUAC) was established to meet the needs of individuals impacted by the Pulse tragedy.A collaboration between the City of Orlando, Orange County,and Heart of Florida United Way. OUAC is a place offering services and support to aid in the physical and emotional healing of those who were present at Pulse on June 12, survivors and immediate family members of those lost.
QUESTIONS:
If you have any questions, or if you are in need of any accommodations, please email Dandelion at Dandelion@peersupportspace.org
Children are welcomed.