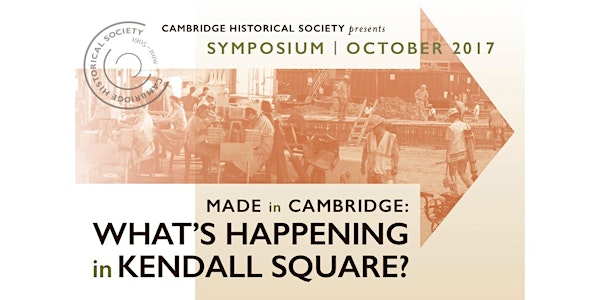 Conversation 1 of Symposium, "Made in Cambridge: What's Happening in Kendall Square?" - "Why Here?"
When and where
Location
Cambridge Public Library 449 Broadway Cambridge, MA 02138
Description
Conversation 1: "Why Here?" Monday, October 2nd, 6-8pm; at the Cambridge Public Library Main Branch Auditorium
We'll be talking about the key elements to establishing the biotech industry in Cambridge. Our speakers will be answering questions like- Why here and not somewhere else? What does innovation mean to us? In hindsight could things have happened differently here?
Our moderator is Henrietta Davis, former Mayor of Cambridge.
Our speakers are Sam Lipson, Director of Environmental Health at Cambridge Public Health; Robin Wolfe Scheffler, Historian, MIT; and Dr. Phillip Sharp, Institute Professor, Koch Institute for Integrative Cancer Research at MIT.
Biographies:

Henrietta Davis is the former Mayor of Cambridge.
Sam Lipson is the Director of Environmental Health at Cambridge Public Health.
Robin Wolfe Scheffler is the Leo Marx Career Development Professor in the History and Culture of Science and Technology at the Program in Science, Technology, and Society at MIT. He studies the history of the biological and biomedical sciences in American society, and he currently focuses on the history of the biotechnology industry.
Dr. Phillip A. Sharp is an Institute Professor at MIT, and member of the Department of Biology and the Koch Institute for Integrative Cancer Research. His research interests center on the molecular biology of gene expression relevant to cancer and the mechanisms of RNA splicing. Dr. Sharp is a co-founder of Biogen and Alnylam Pharmaceuticals, Inc.
Photography policy:
Unless you notify us otherwise, by attending a Cambridge Historical Society event, you agree to allow us to use images or video in which you appear for publicity and archival purposes. These images may be published without restrictions online, on our website or social media, or in print, in our newsletter or promotional materials. The images become the property of the Cambridge Historical Society and are not subject to compensation.
Non-flash, personal use photography is encouraged at our events. If you share these photos on social media, please use tag us @cambridgehistory on Instagram, Cambridge Historical Society on Facebook, and @CambridgeHS on twitter, and use this year's theme hashtag #madeincambridge.