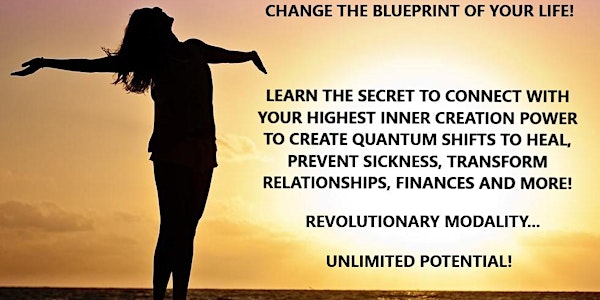 Connect with your Highest Inner Healing and Transformative Creation Power!
Learn and Apply the 5 Levels of Creation to Change the Blueprint of your life to Greater Health and Happiness.
About this event
Have you tried meditation and other self development and life transformation practices that didn't bring lasting change?
When you experience challenges in health, relationships, finances and more, do you sometimes ask yourself "Why is this happening to me?"
Do you want to discover the root cause of your life challenges?
Are you ready to make quantum shifts in your life and create a New blueprint of your life to manifest the Highest potential?
I welcome you to experience a Breakthrough Revolutionary self-healing and prevention modality that is sweeping the globe and bringing profound healing and life transformation to Countless people worldwide.
Ancient wisdom for modern times!
In this FREE weekly class, you will:
●  Learn the 5 levels of creation power 
●  Apply the one-sentence secret to Unlock and Unblock your life with simple, yet powerful practices to transform your life challenges 
●  Design a New reality by tapping into your inner healing and transformative power 
FREE!
TUESDAYS, 7:00 PM to 8:00 PM Eastern
Register now!
*Check your SPAM/JUNK folder for your confirmation email, then scroll all the way to the bottom of the email for the Zoom info.
I look forward to meeting you!
Janine Tillman, M.A., Psychotherapist and Life Journey Guide