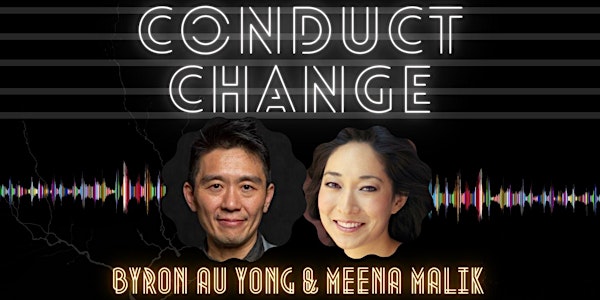 Conduct Change with Byron Au Yong and Meena Malik
Explore how Asian musicians have merged music and activism, and learn how can we push forward, build community, and support each other.
Refund Policy
Contact the organizer to request a refund.
Eventbrite's fee is nonrefundable.
About this event
Asian Musical Voices of America is thrilled to host composer, professor, and organizer Byron Au Yong and vocalist, arts consultant, and cultural organizer Meena Malik for a 3-part series on arts for change. We will explore ways that Asian musicians have successfully merged music and activism. Pushing beyond the traditional criteria of "artistic excellence" and finding creative sources of funding have been critical to artist activists' success. Using these role models and frameworks as guides, how can we push forward, build community, and support each other?
These hour-long sessions will be held over zoom and will be interactive and participatory (and will include some light pre-reading!). Byron and Meena are incredible educators, and we cannot wait for this opportunity to learn from them.
$12 suggested donation per event. All donations will go to funding future AMVA events. No one will be turned away for lack of funds. If you cannot make a donation right now, choose free tickets at checkout.
3-part series include:
Tuesday, October 6, 7:00 PM EST
Activism in the Arts (Part 1)
Workshop led by Byron Au Yong
Activism in the arts has a storied past and continues to thrive in different enclaves around the United States, often with Asians at the forefront of change. We will look at a few of these individuals and organizations in depth. What lessons can we learn from them?
Tuesday, October 13, 7:00 PM EST
Our Values, Money, and Power (Part 2)
Workshop led by Meena Malik
Artists are increasingly straining against their funding sources. Foundations and donors with an interest in "the arts" are often rich, white, and interested in the classics. Even with the best of intentions, artists and funders are wrapped up in a capitalist economic model. How do artists sustain themselves financially, stay true to their values, and actively engage in anti-racist practices?
Tuesday, October 20, 7:00 PM EST
Steps Toward the Future (Part 3)
Workshop led by Byron Au Yong and Meena Malik
How can historical knowledge address the current moment? How can we use this community to support one another? What are some actionable steps that we can take individually and as a group to make meaningful changes in our lives and in our work?
About the speakers:
Byron Au Yong (he/ta) is a composer and educator who creates music for chamber ensembles, moving choirs, contemporary dance, short films, museum installations, site-specific locations, taiko groups, and theater performances. Born to Chinese immigrants in Pittsburgh and raised in the Pacific Northwest, he searches for ways music connects people with the places they call home. As a queer Asian American, he advocates for increased story sharing and vibrant visibility. Highlights include Stuck Elevator, which received the Bay Area Theatre Critics Circle Award for Outstanding Original Musical, Kidnapping Water: Bottled Operas, which received a MAP Fund Award, and Piano Concerto–Houston, a media installation for 11 local pianists, commissioned by the University of Houston Cynthia Woods Mitchell Center for the Arts.
Projects in development include Activist Songbook, to counteract hate and energize movements and Ghost Forest, a musical requiem listening to and singing with the trees. Recent performances include (Be)longing, also known as Trigger, or The Ones, a participatory oratorio, libretto by Aaron Jafferis, about coming of age in an age of guns performed at Virginia Tech Moss Arts Center, MDC Live Arts, and the International Festival of Arts & Ideas. The Seattle Weekly says that his "interdisciplinary works are as exquisite and imaginative as they are unclassifiable."
Honors include a Creative Capital Award, Doris Duke Foundation Building Demand for the Arts Award and Time Warner Foundation Fellowship. Byron has been composer-in-residence with the A/P/A Institute at NYU, Center for Migration and the Global City at Rutgers University, Exploratorium, International Festival of Arts & Ideas, Montalvo Arts Center, TheatreWorks Silicon Valley, Westminster Choir College, Weston Playhouse, Sundance Institute Theatre Labs, Virginia Tech Center for the Arts, and Yale Institute for Music Theatre. He teaches in Performing Arts and Social Justice at the University of San Francisco.
Meena Malik (she/her/hers) is a recognized vocalist, arts consultant, and cultural organizer, who is known as a mover and shaker re-defining what community engagement and conversations around equity in the arts look like. As the Program Manager of Theater at the New England Foundation for the Arts (NEFA), she manages the National Theater Project (NTP), a grant program that supports the creation and touring of devised ensemble theater work. Meena organized and led "Beyond Orientalism: The Boston Forum" in October 2017 and is a co-founder and steering committee member of Boston's first API (Asian Pacific Islander) Arts Network.
Meena has worked in the performing arts community as facilitator, grant panelist, educator, speaker, and consultant with organizations such as Network of Ensemble Theaters (NET), MAP Fund, CreateWell Fund, Somerville Arts Council, Women of Color in the Arts (WOCA), Superhero Clubhouse, El Sistema in Acarigua, Showa Boston, Japanese Arts Network, and many others. An alumna of the artEquity Facilitator Training, Meena is actively engaged in a national community of practice for anti-oppression work in the arts.
As an artist, Meena has performed with Opera Providence, MassOpera, Boston Opera Collaborative, New England Orchestra among others. She currently performs with Voci Angelica Trio, an international band that creates a musical fusion of world folk and classical music that transcends political and geographic borders.
Meena currently serves as a board member of Arts Connect International (ACI), an organization that partners with emerging and seasoned arts leaders to collectively build equity, access, and inclusion through transformational leadership development. She is a proud member of Women of Color in the Arts (WOCA), former mentee in their 2017 cohort of the Leadership Through Mentorship Program, member of the Network for Arts Administrators of Color (NAAC), and former fellow of the 2018 Association of Performing Arts Professionals (APAP) Emerging Leadership Institute. Meena holds a Masters in Vocal Performance from New England Conservatory and a Masters in Arts Administration from Boston University.
About Asian Musical Voices of America (AMVA):
Asian Musical Voices of America (AMVA) is devoted to community-building and activism for transformational change.
Together, ‍
We build community among self-identified Asian Americans working and creating in classical music.
We educate ourselves on the ways structural racism is present in classical music.
We engage in activism to dismantle structural racism, promote equity, and lift up BIPOC musical voices working and creating within the field.