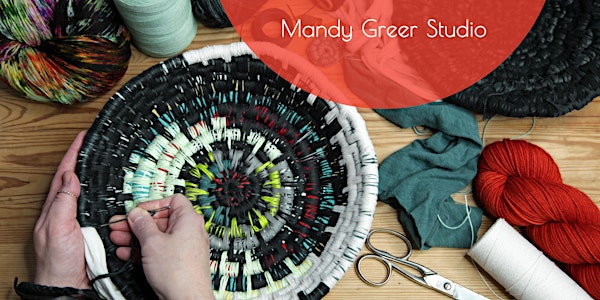 Coiled Baskets from Reclaimed Fiber Workshop: Online - Self-Paced
In this online, self-paced class, we will be making coiled baskets from reclaimed fiber as a form of meditation and creative upcycling.
About this event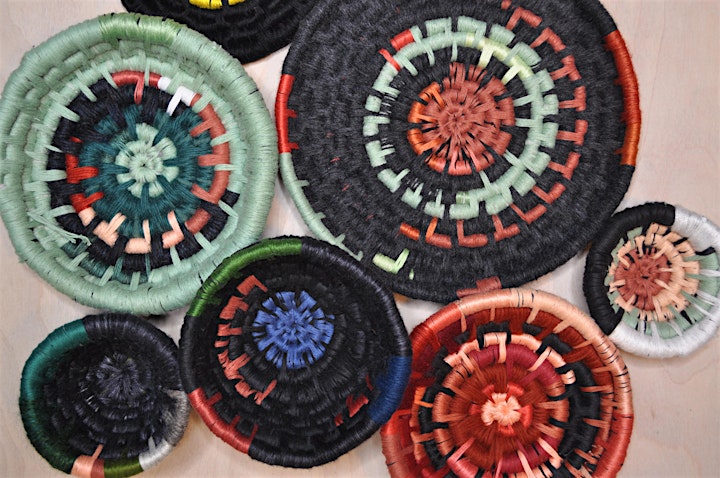 Online Self-Paced Class: Choose the day you want to do the class!
More than an hour of detailed video instruction available to you on your own time, in an Online Event Page.
The videos can be downloaded so you can keep forever. PDF diagrams come with your ticket too!
You are welcome to take the class with your own materials, too.
Materials Needed:
- a blunt metal tapestry needle, approx. 2.25". This is a good option.
-lots of reclaimed fabric, old clothes, etc, you collect from your house. Have one piece that is non-stretchy, like denim or canvas. Have pieces at least a foot long and 4" wide, but variety is fine.
-scissors
Note: I can ship International, but need to send you an invoice, once you have sent me your address and I give you a shipping quote. Please expect shipping delays and plan accordingly. Contact me here with your address to get a quote.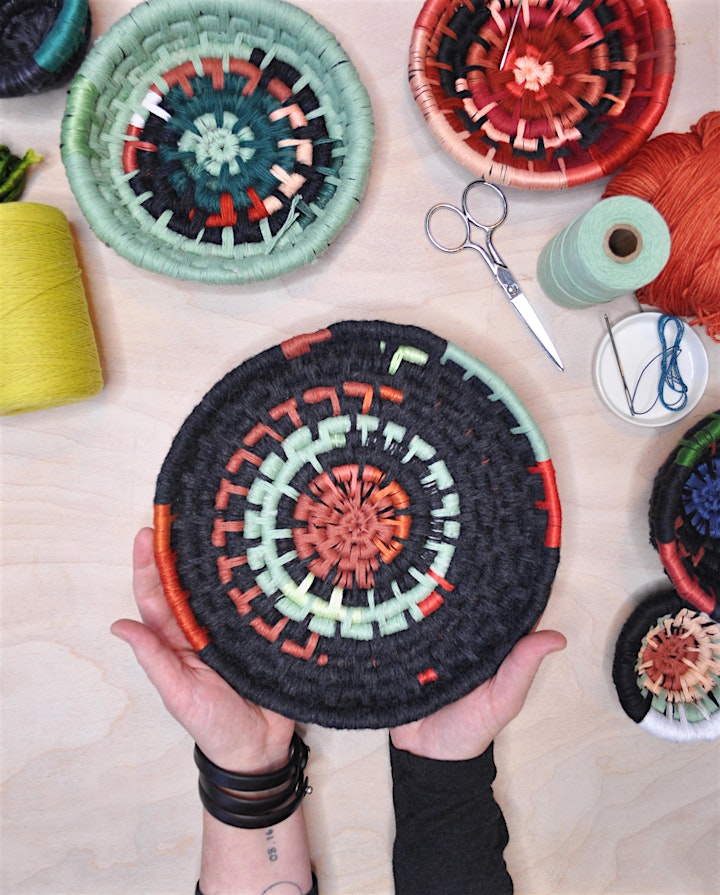 ABOUT THE CLASS:
In this workshop, I'll be sharing an ancient handwork practice that I use as a mediation to sooth ruminating thoughts, relax, be in the moment and sooth myself with color. we'll be focusing on the transformation or used, worn out materials into something beautiful.
This project is great for beginners, and the more you do it, the more benefits you reap! Including having many beautiful baskets to share!
The 4 videos are edited from a previous live Zoom class, removing the awkward parts, but keeping the great student questions - so it's almost like getting to be in a live class!
The Process :
Spiraling around and around of the basket will be like a walking meditation through a labyrinth and can tell the story of our lives through color, expressive stitching and experimentation.
Across cultures, the coiled basket has been both a humble tool for everyday survival and a rich culture-keeper of story and dreamwork, from Australian Aboriginal People, to Masai, to neolithic Celtic peoples, to Hopi and Navajo, to North Atlantic islanders, to Coast Salish peoples.
I began this meditative process by studying baskets called ciosans, made in the Scottish Highlands out of marram grass.
In our current consumer culture, materials that are plentiful is textile waste from our fast fashion addictions.
These materials are abundant to the point of destroying our environment. We'll be using recycled fabrics diverted from the waste stream, considering our impact on the planet through our fast consumer choices, we'll be slowing way down to hand make a labor intensive basket.
This project is a fantastic way to utilize your worn out fiber to create something beautiful and useful.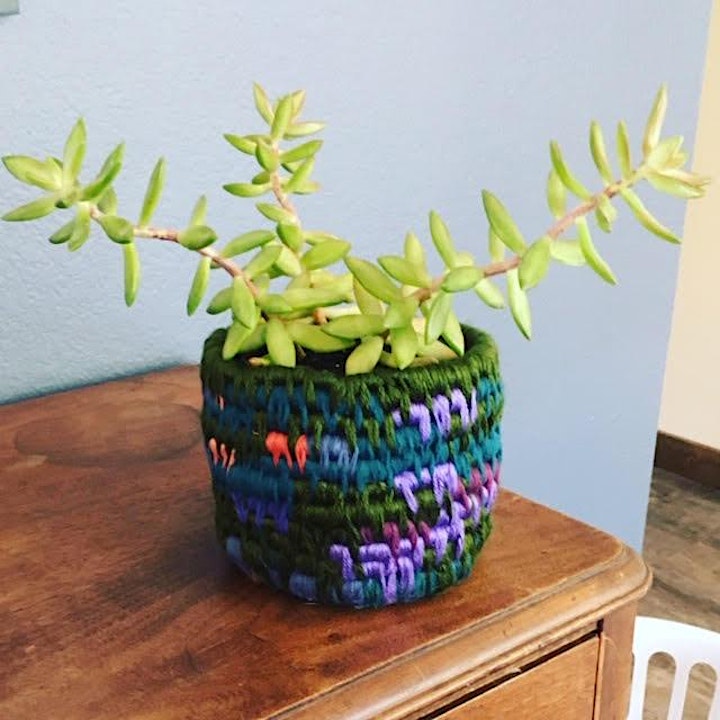 How to access your class:
• Click "Select a Date" at the Red Button and click today's date, regardless of when you want to do the class - You will have access to the Online Event Page as soon as you register, and it stays live as long as you need.
• Once you register, you will receive an email receipt from Eventbrite from "noreply@order.eventbrite.com."
• Go to the confirmation email and click "View the event" OR
• Visit the event page and click Access the Event ( after you register) OR
• Log into Eventbrite and go to Tickets. Find your order and click Go to online event page.
Attendees sign in to view class content: By default, attendees must log in with their Eventbrite account to view the online event page. When they get to the online event page: If they are logged in with the correct account, they will see class content. If they aren't logged in or they logged in with an incorrect account, they're prompted to sign in again.
•On the Online Event Page, you will find 4 videos totaling more than an hour of class time. The password to access the videos will be there.
•You will find a jpegs of the diagrams to help you understand the project, especially for left-handers.
• The Online Event Page stays live after the day you have registered for. But you can download the videos from Vimeo, as well screen capture the other resources, and it is best to do so if you want to access them long term.
• The event page can be accessed by ticket holders only, and it is one ticket per student. Please don't share the materials with people who have not registered.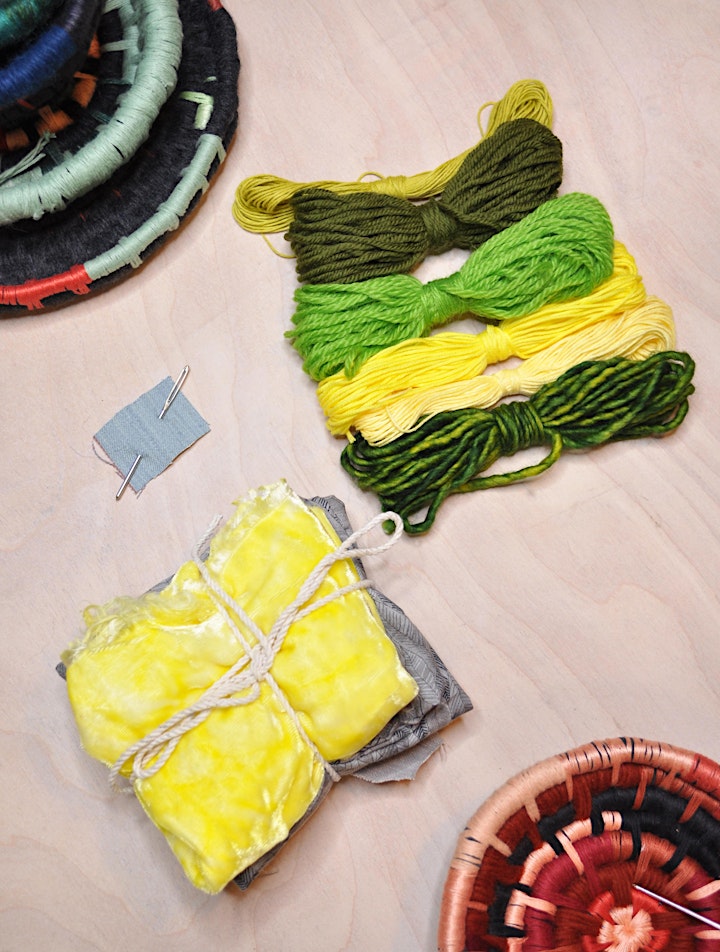 I can make you a kit!
You can use your own collected materials or I can custom-make you a kit from my huge collection of reclaimed fibers and materials.
Just select 3-5 colors and I'll put something together for you, including a contrasting color.
You'll have everything you need to do the class, and continue working.
It includes:
-reclaimed fabric pieces totaling 5 yards x 4 inches
-5 bundles of strong yarn and string, reclaimed/vintage, each one 14 yards, totaling 70 yards
-one blunt metal tapestry needle, approx. 2.25"
SHIPPING or NO-CONTACT Pick-up AVAILABLE at my Columbia City, Seattle Studio
Please allow me 3 biz days to put together your kit.
Pick-up times are Wednesdays and Saturdays, from 2pm-7pm. Include the date you are picking up when you order.
Otherwise, select First Class or Priority shipping. Two kits require Priority.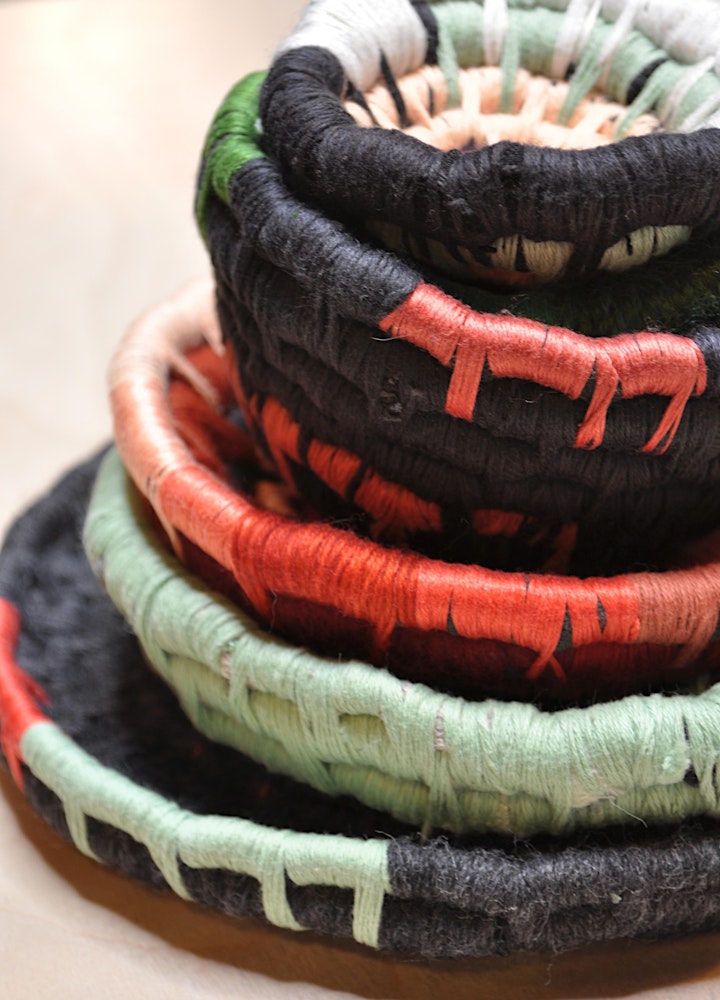 FAQ:
-Get in touch with Mandy HERE with any questions
-No refunds on kit or class. If you register and need to miss, you can access Online Event Page whenever you'd like
-Class videos, texts and PDF resources are copyright and are not to be reproduced or shared in any way without written consent from Mandy Greer