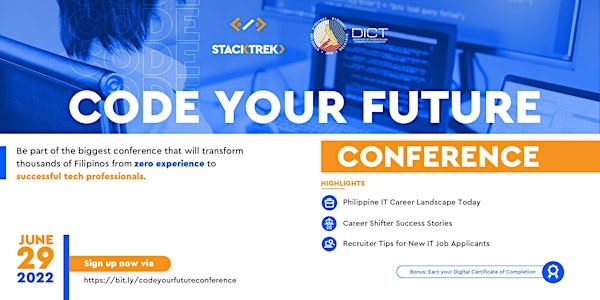 Code Your Future Conference
Be part of the biggest conference that will transform thousands of Filipinos from zero experience to successful tech professionals on Jun 29
About this event
Be part of the biggest conference that transform thousands of Filipinos from zero experience to successful tech professionals on June 29, 2022.
With the theme, "From Zero Experience to Successful Tech Professionals", the Code Your Future Conference in partnership with the Department of Information and Communications Technology, aims to bring opportunities to every Filipino as they take their first steps to become a successful tech professional despite having zero professional experience or even zero coding background.
Code Your Future creates the pathway to achieve this career transformation. With this, the conference highlights IT career trends, a 40-minute coding workshop plus access to training and programs offered by partners. Furthermore, panel discussions with recruiters and successful career shifters will be hosted to answer burning questions from new IT job seekers.
More than just a learning session, the conference celebrates Filipinos starting their coding career with raffle prizes given away throughout the day.
AGENDA
9AM - CYF Keynote c/o DICT
10AM - Philippine IT Landscape Today
11AM - Lightning Talks: Feature Programs You Can Leverage Today
12PM - Partner Talks / Lunch Break
1PM - 40min Coding Workshop for Beginners
2PM - StackTrek Full Stack Bootcamp Info Session
3PM - Panel: Career Shifter Success Stories
4PM - Panel: Recruiter Tips for New IT Job Applicants
5PM - Closing Message c/o StackTrek