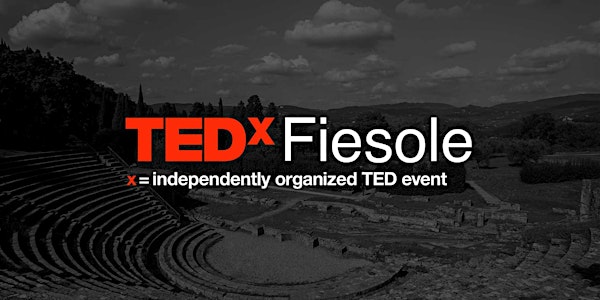 The Club of Fiesole - Networking Reception + TEDxFiesole 2022
Networking Receptions the night before TEDxFiesole 2022 " A RENEWED HUMANISM"
Quando e dove
Località
Teatro Romano di Fiesole 1 Via Portigiani 50014 Fiesole Italy
Politica di rimborso
Niente rimborsi
Informazioni sull'evento

The night before TEDxFiesole 2022, we will meet with our special friends, speakers, distinguished guests and VIPs in an unforgettable location Villa Bardini in Florence for a few hours of high-quality talks, networking, and friendship. All around renewed humanism.
The event will be also the occasion to launch THE CLUB OF FIESOLE the organisation that is organising TEDxFiesole.
No worries, quality food and prosecco will be all around, as well as live music and surprises.
www.theclubfiesole.org www.tedxfiesole.com
This is an all-including ticket that comprises the exclusive networking reception on 16 Sept 2022 + The entire TEDxFiesole Event on 17 September 2022 + A Panel on forestry protection that will be held in Villa Bardini on September the 15th 2022.
This first edition of TEDxFiesole takes place at a time of great turmoil in human history. But the future also beckons with extraordinary possibilities – in clean energy, social entrepreneurship, climate and sustainable finance, and new technologies.
The theme of TEDxFiesole is a 'Renewed Humanism', a humanism that looks toward a sustainable, equitable, and harmonious future for all planetary life.
'Humanism' was born hundreds of years ago; it refers to a set of social, artistic, and philosophical perspectives broadly based upon the egalitarian aims of widespread learning, intellectual freedom, and individual expression. The 'Renewed Humanism' of TEDxFiesole investigates and extends those thought processes to the current context of the Antropocene, a new geophysical epoch where all human, biological and terrestrial systems are defined by deep states of stress and fragility, mostly as a result of human actions.
As viewed through the 'Fiesole lens', the way forward is along with the unanimously adopted signposts of the United Nations' Sustainable Development Goals and UN 2030 Agenda—which include empowering women and disadvantaged peoples; eliminating war and poverty, creating universal access to food, water and energy; and reversing climate change and ecosystem destruction.
TEDx Fiesole is a forum for creation and revitalization, one in which we hope to forge collaborations for an integrated flourishing for all life.
First confirmed TEDx Speakers
Manuel Pulgar Vidal - Manuel is the Global Leader of Climate & Energy at WWF. He has 35 years of experience in environmental law and policy and served as Minister of the Environment of Peru (2011 to 2016) and President of the Twentieth Conference of the Parties to the United Nations Framework Convention on Climate Change - COP20 in 2014. Manuel took a crucial role in the negations of the Paris Agreement.
Sarah Roberts – Sarah is the CEO of Practical Action, one of the most active NGOs, showing what a sustainable and equitable world could look like.
Juan Chang - considered among the major experts worldwide on Climate Change and Forestry Investments, he held various senior management roles in multilateral institutions such as the GCF (Green Climate Fund) where he managed forestry projects for 1.3 B$ and IDB (Interamerican Development Bank). Currently, he is Senior expert and Head of Technical Operations at Permian Global.
Andrea Johnson – CEO Green Empowerment a US based NGO that works worldwide to bring drinkable water and renewable energy to remote communities through community-owned infrastructures.
Ryan Phillips Page - Founder and CEO of Operation Water, a social enterprise whose mission is to deliver clean water solutions to the greatest number of people in need, at the lowest cost per person, by developing sustainable infrastructure projects. He is also a Board Member of Even Ground, a non-profit that funds community-based programs serving disadvantaged youth in South Africa, and an Advisor to Latin American Leadership Academy, which promotes sustainable economic development and strengthens democratic governance in Latin America by developing and connecting a new generation of principled and socially innovative leaders.
Sennait Ghebreab - Sennait is an expert in fashion brand development and buying with extensive background knowledge of wholesale and luxury goods, is a program leader for the BA courses in Fashion Business at Istituto Marangoni London since 2015. Beyond her academic work, she runs her own consultancy business, in buying, providing services to Arab luxury retailers and some key Italian stores.
Alisa Cohn Author, From Start-up to Grown-up and Executive Coach Solving all the world's toughest problems requires a new kind of global collaboration, a new way of thinking for all of us. We need to learn to deal with our differences to be able to find common ground. We can't talk about solving any of the world's challenges – including climate – if we can't talk to each other. As an executive coach and the author of From Start-up to Grown-up, Alisa Cohn has devoted her entire life to helping people reach their full potential by coaching them to build their interpersonal toolbox to enable constructive conversations. Alisa's talk will inspire and empower you to think differently about differences and to learn how to explore others' ideas to come together for solutions.
PERFORMERS
Scuola di Musica di Fiesole several artists
Giovanni Caccamo is an Italian singer-songwriter. After being discovered by singer Franco Battiato and producer Caterina Caselli, he won the Newcomer's section of the Sanremo Music Festival 2015, with the song "Ritornerò da te", and released his debut album, Qui per te. He also worked as a television presenter, and he dubbed the character Uku in the Italian version of Pixar's short film Lava. As a songwriter, he penned songs for Italian recording artists Malika Ayane, Francesca Michielin and Emma Marrone.