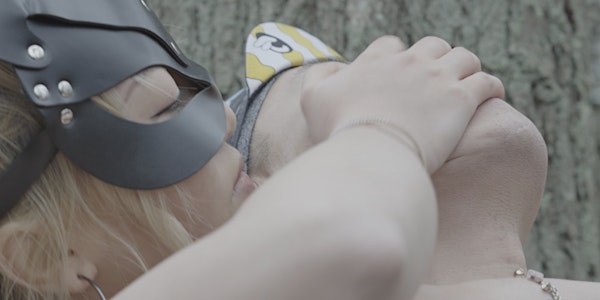 He Xiangyu in conversation with Hou Hanru and Kathryn Weir
Vanishing Points, the public program of Penumbra, continues with a conversation between He Xiangyu, Hou Hanru, and Kathryn Weir
Quando e dove
Località
Complesso dell'Ospedaletto 6691 Barbaria de le Tole 30122 Venezia Italy
Informazioni sull'evento
Join us for a conversation between artist He Xiangyu; Hou Hanru, Artistic Director at MAXXI, Rome; and Kathryn Weir, Artistic Director at Madre, Naples; as part of Vanishing Points, the public program accompanying Penumbra.
This conversation will be delivered in English.
He Xiangyu (b. 1986, China) is an artist and film director who lives and works in Berlin. Emerging from a generation of artists who have experienced the radical changes in China's society reverberated within the economy and international relations, His practice is based on his unique cultural experience. Using a diverse range of media, his work contemplates and echoes the fatalistic micro conflicts on specific individuals in a time of macro geopolitical and historical turbulence. His works have been shown at institutions such as Ullens Center for Contemporary Art, Bei- jing; OCAT Institute, Shanghai; Para Site, Hong Kong; The Drawing Center, New York; Solomon R. Guggenheim Museum, New York; Smart Museum of Art, Chicago; Kadist Foundation, San Francisco; LACMA, Los Angeles; KW Institute for Contemporary Art, Berlin; Centre Pompidou, Paris; and Castello di Rivoli, Turin, among others. His works were also presented at the 58th La Biennale di Venezia - China Pavilion, 13th Biennale de Lyon, 10th Shanghai Biennale, 5th Yokohama Triennale, and 8th Busan Biennale. More recently, He Xiangyu was shortlisted for the "Mario Merz Prize" (2021) and the "Future Generation Art Prize" (2014).
Hou Hanru is a prolific writer and curator based in Rome and Paris. Having curated over-100 exhibitions across the world and collaborated with numerous international institutions, he is currently Artistic Director of MAXXI (National Museum for 21st Century Art and National Museum of Architecture), Rome.
Kathryn Weir is a curator and writer based in Paris and Naples, she was named artistic director of the MADRE museum in 2019. Current and recent curatorial projects include Lagos Biennial 2021/2023, 'Clément Cogitore: Ferdinandea' (2022), 'Beauty and Terror: sites of colonialism and fascism' (2022), 'Claire Tabouret: I am spacious, singing flesh' (Collateral Event, 59th International Art Exhibition – La Biennale di Venezia), 'Rethinking Nature' (2021–2022), 'Utopia Dystopia: the myth of progress seen from the South' (2021- 2022) and 'Collective Body' (Dhaka Art Summit 2020). She was previously director of multidisciplinary programs at the Centre Pompidou, and created 'Cosmopolis' there in 2015 as a platform for research-based, socially engaged and collaborative practices that reconfigure art's histories and geographies. She also established the annual festival 'MOVE: performance, dance, moving image' in 2017. From 2006-14, at the Queensland Art Gallery | Gallery of Modern Art (QAGOMA), Brisbane, she was chief curator of contemporary international art, directed the Australian Cinémathèque, and was a member of the curatorium of the 5th, 6th and 7th Asia Pacific Triennials, as well as leading the major project '21st Century: art in the first decade' (2010-2011). Her curatorial and writing practice engages with critical thinking on gender, technology, race, class and political ecology. Published books include Cosmopolis #1.5: Enlarged Intelligence (Centre Pompidou/ Mao Jihong Arts Fondation, 2018), Gorilla (Reaktion Books, 2013), Sculpture is Everything (QAGOMA, 2012), The View From Elsewhere (Sherman Contemporary Art Foundation, 2009) and Modern Ruin (QAGOMA, 2008).
Image credit: He Xiangyu, House of Nations, 2021. Single-channel video, 2K, colour, 5.1 sound, 28'58''. Courtesy of the artist, and Fondazione In Between Art Film.