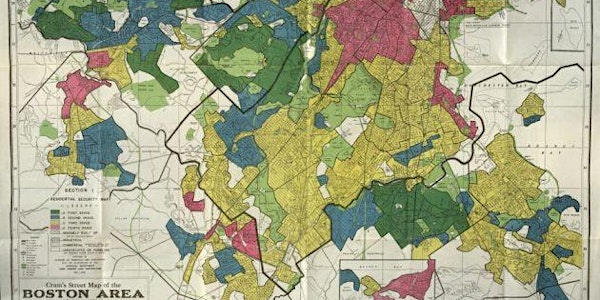 At My Neighbor's Table: What Kind Of Communities Do We Want To Live In?
Join us for an interfaith conversation on how we can bring ourselves closer to a larger and more inclusive community.
About this event
What Kind Of Communities Do We Want To Live In?
Examining Housing Policies Through a Lens of Equity
"At My Neighbor's Table Series"
Sunday, October 18, 2020. 5:00 - 6:30 PM
This event is Free but limited (Please sign on by 4:45)
Kindly register by Wednesday, Oct 13th. Event Zoom link will be sent to registrants when sign up period ends at 12pm on October 18th.
Donations welcome! tinyurl.com/givetocmm
We will explore and discuss the drivers of structural inequality that have led to high levels of racial, ethnic, and economic segregation in our communities and what we can do about it.
The Greater Boston Housing Report Card 2019: Massachusetts, like many places..., has a long history of overt segregation in housing policies (such as redlining), Housing policies like exclusionary zoning, discriminatory mortgage lending and other practices in use as recently as the early 2000s...disadvantaged Black and Latino communities. While...illegal today, they firmly established segregated...communities based on class and color throughout Greater Boston.
Jennifer Raitt has served for local, regional, state and national housing, community development, and planning organizations and recently became a Climate Reality Leader with the Climate Reality Project.
Director of Planning and Community Development, Arlington, MA.
Town of Brookline Housing Advisory Board
Metropolitan Area Planning Council Executive Committee.
Prep Work (Quick Videos):
Additional Material for Further Reading:
Sponsors: Cooperative Metropolitan Ministries, Baha'i Community in Needham, Carter Memorial UMC, Christ Episcopal Church, Congregational Church of Needham UUC, First Baptist Church in Needham, Equal Justice Needham, First Parish Unitarian Universalist of Needham, Grace Lutheran Church, League of Women Voters of Needham, League of Women Voters of Westwood/Walpole/Dedham, Needham Diversity Initiative, Needham Human Rights Committee, Progressive Needham, Temple Beth Shalom, Wellesley Friends Meeting, World of Wellesley. These groups have come together to support this event .
For Questions, please email: info@coopmet.org