Description
Mary Taylor Simeti, the absolute authority on Sicilian cuisine, is back in her homeland of NYC to chat with us about her chosen homeland of over fifty years, Sicily. Fun fact: It is in her indelible book Pomp & Sustenance where we first heard the name 'Archestratus.'
Join the celebrated author of the classic Pomp & Sustenance at Archestratus as we celebrate the release of her new book Sicilian Summer: An Adventure in Cooking with my Grandsons.
Part memoir, part family recipe collection, and part delightful photographic record of an extraordinary experience, Sicilian Summer is also a meditation on the integral role food can play within the family in bonding, creating memories, and consolidating tradition and identity.
Event Format: Discussion moderated by a fellow lover of Sicily and chef, Linda Sarris, Q&A, Wine Reception and Books for Sale.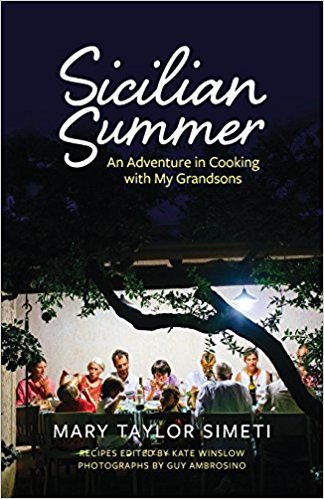 Mary Taylor Simeti is the grand dame of Sicilian-American food writing. An American writer, who has lived in Sicily for almost forty years, Mary is the author of several books, including a memoir On Persephone's Island, the definitive guide to the culinary history, traditions and recipes of Sicily Pomp and Sustenance: Twenty-Five Centuries of Sicilian Food, and Bitter Almonds: Recollections and Recipes From a Sicilian Girlhood. Her books have been translated into Italian, and she has contributed to numerous American, Italian and British publications, including the New York Times and the Financial Times.
Linda Sarris is private chef, seafood lover, and fancy lady. Raised in a big Greek-American family with a Chef grandfather and a fisherman dad, Linda has been in love with food her whole life. She's traveled to over 25 countries in search of caipirinhas, fresh seafood, volcanic wines + hardcore street food. After the French Culinary Institute and a few stints in restaurants, Linda took off to sharpen her culinary skills in her own adventurous way - working on a farm-to-table cooking school and wine estate in Sicily, spending two summers private-cheffing in Tuscany and consulting for restaurants in Bucharest, Romania and Bogotá, Colombia. She currently splits her time between NYC and Italy; cooking for several badass female CEOs and available for dinner parties, private cooking lessons, bachelorette weekends, team-building workshops + travel for private chef jobs.