Multiple Dates
Aligning Leader Strengths: A Resilience Journey Workshop
Description
Aligning Leader Strengths and Resilience

A Journey Workshop (May 12, May 16)
With Ben Dilla, PhD, BCC, Founder and Managing Director of Bold Leader Development (BLD LLC) and Joel Bennett, PhD, CWP, President of Organizational Wellness & Learning Systems (OWLS)
[2.5 Hour Pre-Meeting on 5/12; 7.5 Hour Workshop on 5/16 - includes breaks]
PRE-WEBINAR (FREE) || Apr 28, 2020 06:00 PM
----------
REGISTER HERE FOR OUR FREE WEBINAR INTRODUCTION
----------
The processes that underlie core leadership strengths and emotional intelligence also inform one's ability to anticipate, manage, and respond to stress in positive ways. That is, strengths allow us to move from merely coping to being resilient and on toward thriving. By doing self-awareness, paired, and group exercises, individuals can tap into this ability in more intentional and proactive ways for both personal and professional growth.
WHO IS THIS WORKSHOP FOR?
This workshop is designed for anyone on their leadership journey. The concepts apply to both professional and personal leadership growth. Whether you are a business owner or a community volunteer, experienced as a supervisor or a chief executive, we welcome a diverse group of participants. The tools for emotional intelligence, character strengths, and resiliencehave universal application. The presenters and workshop design will help you apply these concepts to your situation.
KEY CONCEPTS
Three pillar concepts guide the design of this workshop: Character Strengths (Knowing which areas of personality afford greater self-leadership); Raw Coping Power (the ability to transform stress into a positive resource); and Emotional Intelligence (Self and social awareness and management skills for working with emotions during stress).
BENEFITS
As a result of completing this workshop, participants will:
Gain new insights into their leadership style
Identify areas of emotional intelligence and resilience
Recognize qualities in self and others for supporting ongoing growth
Identify risk areas of "triggers" that can undermine one's own leadership and develop corrective plans
Gain tools to help transform stress into a positive resilience resource
Learn how to navigate and synthesize the different languages of Strengths, Emotional Intelligence, and Resilience
Walk away with practical tools and an action plan to realize the full benefits of the above factors
Gain a new community of like-minded journeyers on the path to self-awareness and leadership
Receive results from Gallup's Clifton Strengths® assessment and a short EI survey, a hard copy of "Raw Coping Power: From Stress to Thriving," and workbook materials
FEATURES
This one-day (7.5-hour) workshop takes place on Saturday (May 16) and is preceded by 2 to 3 hours of prework (complete Clifton Strengths® and Emotional Intelligence assessments and review results; complete a resilience workbook) and a pre-meeting (2.5 hours) on Tuesday evening (May 12). The workshop contains six modules (diagrammed below). Following review of the overall model (module 1), participants work through each of the four domains of Strengths and their associated areas of Emotional Intelligence as follows: (i) know the domain and one's strengths (or gaps) in that domain; (ii) understand the key stress and coping skills associated with that domain; (iii) activities, case studies and discussions where participants share and learn in a team-oriented environment. In the final module, participants work on and share their action plans.
WORKSHOP MODEL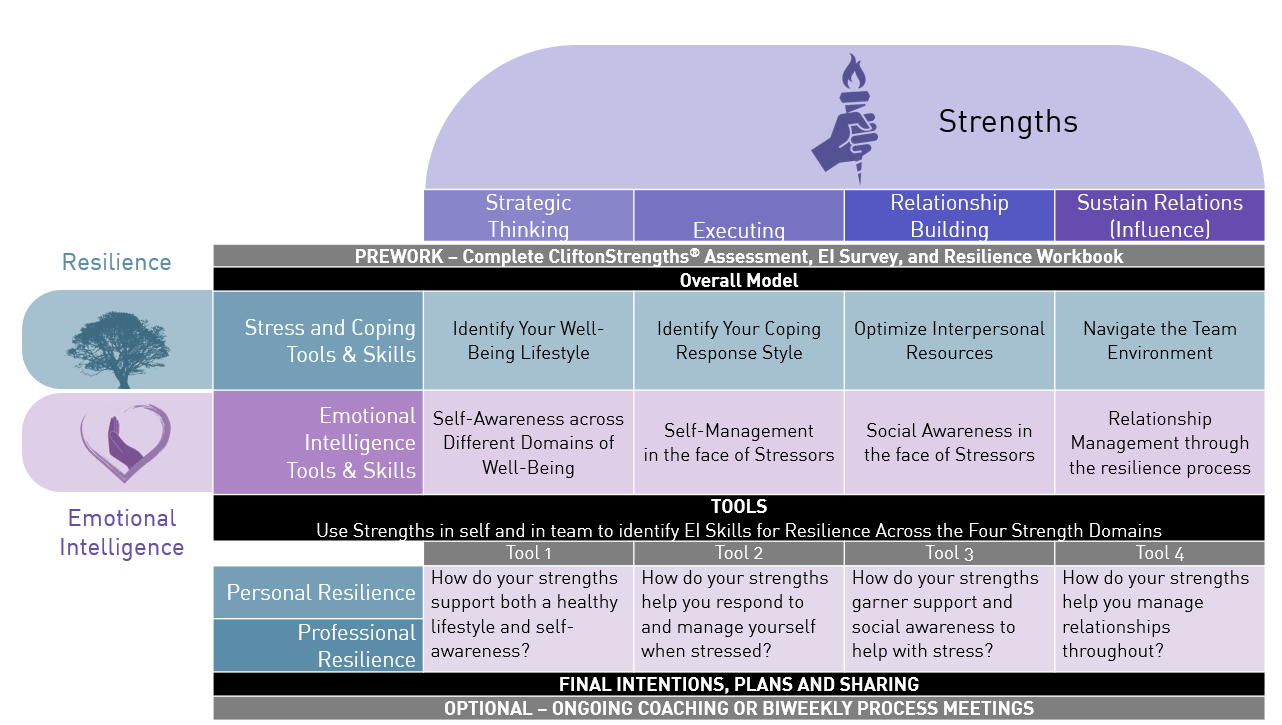 SCHEDULE/VENUE (In-Person and/or Online – pending developments in COVID-19)
The workshop was originally scheduled to take place on the campus of The University of Dallas (Boardroom in SB Hall). We are now fully equipped to hold the training via online Zoom technology. Participants are requested to complete pre-work assignments between Tuesday and Saturday.
PRE-MEETING – TUESDAY MAY 12 – 7:00 to 9:30 PM

WORKSHOP – SATURDAY MAY 16 – 8:30 AM to 4:00 PM (with Lunch Break)
PRICING is $329
PRE-WEBINAR (FREE) || Apr 28, 2020 06:00 PM
REGISTER HERE FOR OUR FREE WEBINAR INTRODUCTION

CONTACT either of us:
Ben: ben.dilla@gmail.com
Organizer of Aligning Leader Strengths: A Resilience Journey Workshop
Ben Dilla, PhD, BCC, Founder and Managing Director of Bold Leader Development (BLD LLC), has been facilitating leadership education and training since 1983 and coaching business leaders for over 20 years. Ben also teaches in the graduate business programs of the Gupta College of Business at The University of Dallas. He is the author or co-author of over 20 peer-reviewed papers for business conferences and publications including Journal of Management and Journal of Vocational Behavior, and he is writing his first book, entitled Your Best Self at Work: The Power of Strengths-Based Emotional Intelligence.
Joel Bennett, PhD, CWP, President of Organizational Wellness & Learning Systems (OWLS) has been teaching and training in stress management and resilience since 1985. OWLS programs have been recognized as evidence-based in preventing behavioral problems in the work settings and have reached close to 250,000 workers world-wide. Joel is author or co-author of over 30 peer-reviewed science papers and five books including Raw Coping Power and Heart-Centered Leadership.