The AAJA Founders Forum will feature pioneers who started AAJA.
About this Event
Dear AAJA-LA members and friends,
This year marks the 40th anniversary of the founding of the Asian American Journalists Association in Los Angeles. And it's never been more important for us to honor our community's shared history. The tragic events of the past couple of days have shown us the need for action, solidarity and reflection about anti-Asian racism and stereotypes -- which also confronted the founders 40 years ago and helped drive them to launch AAJA.
Against this background, AAJA-LA is proud to present "AAJA Founders Forum: Origin Story" on Friday, April 2, from 6 p.m. to 7:30 p.m. PT via Zoom.
 We are privileged to gather five of the six pioneers who started AAJA: Bill Sing, David Kishiyama and Nancy Yoshihara, all of whom worked at the Los Angeles Times; Frank Kwan, then of NBC4; and Dwight Chuman, then of the Rafu Shimpo. They will share stories of how and why they created AAJA, the challenges and triumphs they experienced and how they believe the organization and Asian American journalism can move to the next level. 
This event will kick off our yearlong celebration of AAJA's 40 incredible years as it grew from a small group of Los Angeles journalists in 1981 to more than 1,600 members in 20 chapters across the United States and in Asia today. David Ono, news anchor for ABC7, will moderate the virtual event. Please join us for this unique and epic gathering!  
Thank you for your support!
AAJA-Los Angeles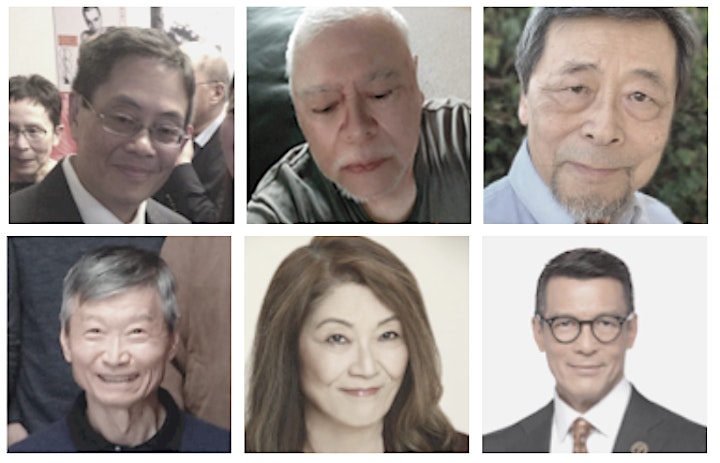 Bill Sing
AAJA co-founder Bill Sing's adventures in Asian America and journalism were encouraged by supportive parents actively involved in Seattle's Chinese American community. That sparked Bill to start an Asian American newspaper and create courses in AA media and community affairs while earning an economics degree at Stanford. Bill then led AAJA from its roots in Los Angeles to a national organization that has increased Asian Americans in journalism, improved coverage of AAs and helped AA journalists connect and thrive. Bill's 28-year journalism career, entirely as a reporter and editor at the Los Angeles Times, included covering the 1987 stock market crash and 1980-90s S&L crisis, and writing a personal finance column. As the Times' Business Editor, Bill led its business section to win several national "Best in Business" awards while creating innovative ways to engage readers and helping staff members do their best work. Favorite pastimes: hip hop, ballroom, swing, salsa, shuffle dancing, individual medley, topspin forehands, getting up and down, hiking and running up hills, whole-food plant-based cooking, lifelong learning.
Nancy Yoshihara
I can't believe that 25 years have passed since AAJA celebrated its 15th anniversary in Los Angeles with a media panel discussion featuring Yahoo co-founder Jerry Yang and a celebratory dinner with newscaster Sharon Tay as the master of ceremonies. I remember that April 26, 1996 event well because I was president of the Los Angeles chapter and so grateful to our dedicated organizing committee, members, and supporters who made it all possible. To visit with AAJA today is a bit bittersweet for me, a journey through journalism from before the organization's founding in 1981 to the worrisome and continual downsizing of media operations and the attacks on Asian Americans. AAJA has stood firm throughout, supporting Asian American, Pacific Islander and other journalists and educating the public at large. I am so proud to be part of the AAJA origin story.
I've had a long and wonderful journalism career. I was fortunate to begin when civil rights and affirmative action opened opportunities that were unavailable to my parents' generation. I also began and ended that career at the Los Angeles Times where I rose through the ranks: Copy messenger; desk assistant, time out for a Washington Post internship, returning to the Business section to officially begin as a reporter. I moved to the LAT Editorial Pages as a board member and writer until I became Fashion Editor and later Deputy Editor of the Home section. I left the paper a decade ago, one of the victims of the many downsizings at the Los Angeles Times. Experiencing and guiding me through these journalism adventures was my late, wonderful husband Earl Gustkey, a long-time LAT sportswriter.
Life since journalism has been rewarding as well. At the Knight Digital Media Center at the USC Annenberg School of Communication and Journalism, I helped organize workshops for print journalists transitioning into the internet era. As Director of Marketing at Time Capsule Press, I worked with Dickson Louie, a long-time AAJA member and popular ELP instructor, who published 50 Amazing Years in the City of Angeles: The Los Angeles Lakers, a WSJ national best seller, and The Washington Post Cookbook. Currently I oversee communications at the Los Angeles Arboretum Foundation.
AAJA has been an enduring source of friendships, professional collaborations, and hope for the future. The torch has been passed carefully to new generations of journalists and more to come. Thank you!
David Kishiyama
David Kishiyama has often taken the road less traveled, and that has made all the difference in his three careers, long marriage and now blissful retirement, even in these trying times.
He credits AAJA for giving him a sense of support and the confidence to take risks -- with all their possible rewards.
Over a 23-year career at the Los Angeles Times, David was a copy editor, news editor, graphics editor, classical music editor and assistant editor for several features sections. He and Nancy Yoshihara were hired in 1973, probably the first Asian Americans in the editorial department. There they were virtually the only AA journalists for the rest of that decade, an indication of a career path far less traveled.
David was AAJA's first vice president for print and co-chaired its first national convention in the mid -1980s.
In 1996, David left the L.A. Times for a small Pasadena startup firm, Gemstar Development Corp., which offered its technology in newspaper TV listings. David's main task was to advise and consult with leading newspapers across the United States and Canada. David also wrote and edited editorial content broadcast in 12 million TV sets. Gemstar grew quickly and eventually added TV Guide as one of its numerous acquisitions. He retired from this job in 2006. David also had a third unlikely career, the U.S. Navy. He served in the Vietnam War aboard a destroyer and embassy duty in Tokyo, where he met his wife to be, Noriko, 50 years ago. David continued in the Naval Reserve and retired with the rank of captain in 2003. David and Noriko, a former vice president of Mizuho Bank, are both long retired and live in West L.A.
Frank Kwan
Frank Kwan, APR, has had major leadership responsibilities in media and education, retiring from the Los Angeles County Office of Education (LACOE) after overseeing communications and emergency response for the nation's largest regional educational agency serving 80 K-12 school districts. Frank is currently with a management consulting group working with special education students and families.
He has also been a communications auditor for the National School Public Relations Association, working with school districts in Canada, Alaska, California, Idaho, Oregon, Texas and Washington. Frank is Accredited in Public Relations (APR) by the Universal Accreditation Board.
Frank came to LACOE from NBC4 Television in Los Angeles, with assignments as an executive producer, producer, field producer and host for news, public affairs, documentaries, and special event /political coverage. He was also in positions at KCOP TV, KABC Radio, and KFWB Radio. Frank has had a long-time involvement with Los Angeles community organizations, and is currently on the President's Asian American and Pacific Islander Advisory Committee at Pasadena City College. Frank is a founder of the Asian American Journalists Association, the University of Southern California Asian Pacific Alumni Association, and was a senior lecturer in Ethnic Studies at USC.
His broadcasting work was recognized with awards including four Los Angeles Emmys, two National Education Association's Advancement of Education Through Broadcasting, a Golden Mike and American Women in Radio and Television Commendation Awards while at NBC 4. His broadcasting projects were also recognized by the Asian Pacific American Artists Association, the NAACP and the National Hispanic Media Coalition.
Dwight Chuman
Started as an anthro major at Cal State Long Beach, switched to music (cello) at Berklee (College of Music in Boston, not UC Berkeley); the war in Vietnam was raging and I needed a student deferment to dodge the draft, so I switched majors again several times before finally settling on poli sci back at CSULA and then finally... journalism.
Landed a menial job in Rafu Shimpo's print shop while still in school. I was promoted to English editor in 1975, also worked at KCET during that same period as a production assistant on Edward Moreno's L.A. Collective and as PA and recurring panelist on Clete Robert's L.A. Week in Review. With a dream of someday publishing a monthly, nationally circulated magazine, I left the Rafu in 1983 to toil for such illustrious titles as XBiz (the porn industry bible, where I met my second wife), Poker Player (a weekly fan mag for Texas Hold'em fans) and Gambling Times, a nationally circulated gambling and leisure monthly.
I'm one of those sansei Nikkei who grew up in the ethnic bubble that was Gardena, Calif. in the 1960s and '70s. We were nurtured like experimental animals or prized livestock as we navigated our formative years bathed in Japanese culture, religion and the Japanese American grit of the Issei and Nisei.
David Ono (Moderator & Host)
David Ono is the long time evening anchor for ABC7 Eyewitness News. You'll find him at the helm of the top rated 4pm and 7pm newscasts, as well as the number one rated show in all of Southern California, Eyewitness News at 6pm.
An intrepid journalist and filmmaker, David has traveled the world, covering some of the biggest stories of our day. He's received 24 Emmy awards and 8 Edward R Murrows.