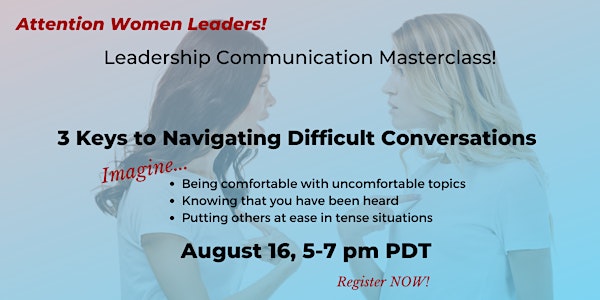 3 Keys to Navigating Difficult Conversations
Quit avoiding difficult conversations and learn how to enjoy them instead!
About this event
Women Leaders!
Are there certain conversational situations that make you uneasy? Perhaps times when...
you have to bring some bad news to your supervisor? Or...
you have to discuss a topic that has not been pleasant in the past? Or...
you will be talking with someone who does not seem to listen to your input?
If your answer is "YES," to any of these, then this class is for you!
Imagine... what would it be like for you to look forward to these kinds of conversations? To enjoy them as opportuities for collaboration, growth and synergy? Are you feeling doubtful that this is possible for you?
Join us as we explore some basic conversational techniques you can use to improve your results in difficult conversations of all types, whether it is a work or personal situation. We will brainstorm around your indivitual needs and send you off with powerful tips to use the next time you have a tough conversation coming up.
Let's change this for you so that you can become the impactful leader you yearn to be!