This is your opportunity to sign your child up for the community mentor programs for the 2021-2022 Club Year.
About this event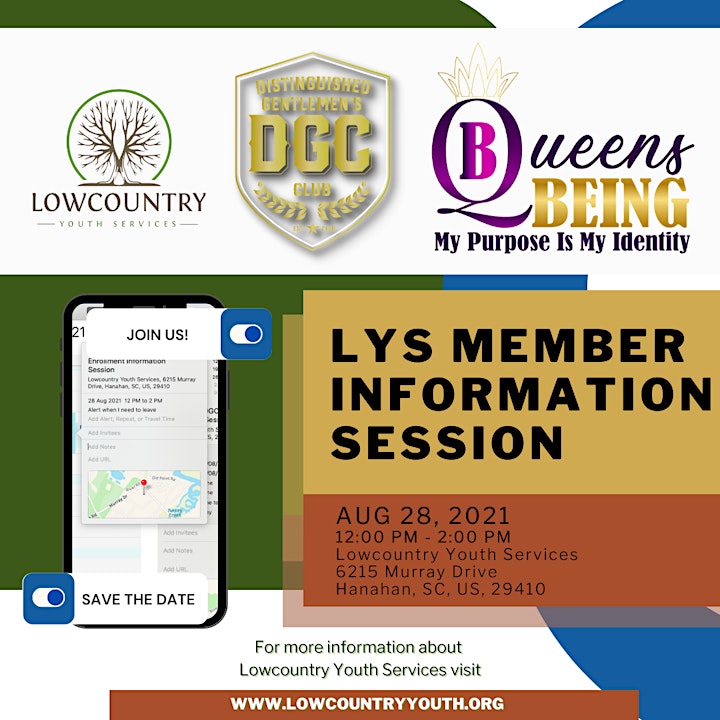 New Applicants:
This will be your opportunity to have your applicant interviewed to join the Distinguished Gentlemen's Club (DGC) or Queens' Being (QB) Mentor Programs.
DGC: We have limited slots available for new members between third and eleventh grade. There will be an information session and individual interviews will be scheduled at the end of the session.
QB: This year, we are only opening this program up to siblings of current members of DGC. Next year we plan on opening this program up to all young ladies of the tri-county area.
Returning Families:
We will be updating you on what has changed since last year and how we are moving forward with this year's calendar and program.
Please make sure that you complete an application for your child whether they are a new candidate or renewing their membership via this link https://lowcountryyouth.org/dgc_register.php.
Make sure your application is completed BEFORE the event!
Organizer of 2021-2022 LYS Open Enrollment Information Session
Our Vision is that "Every Child Wins"

Welcome to Lowcountry Youth Services, where our vision is that "Every Child Wins". Here at Lowcountry Youth Services, we offer several programs that provide Berkeley, Charleston and Dorchester county youth with the tools they need to succeed in every area of their lives. Life is challenging at times, and for some children, it's more challenging than normal. Our 1-on-1, group mentoring and youth development programs address these needs, and our programs are intentional about providing positive role models and teaching children various life, social, and problem-solving skills.
Our programs are available to young people from all ethnic, social and economic backgrounds. It doesn't matter if a child is a straight-A student who happens to be distracted by a traumatic situation at home or a child who has been charged with multiple juvenile offenses, and labeled "high-risk". The reality is every child can benefit from structured support, and every child can win if given the opportunity!
Do you have a desire to make a positive difference with young people? Lowcountry Youth Services is the place for you! Prefer to work with elementary children? We can help! What about preparing children for college? We have a spot for you! Do you want to work with juvenile offenders? Maybe those who have academic challenges? Let us know! Click below to start a conversation about volunteer opportunities with Lowcountry Youth Services!