Description
The LearnLaunch Across Boundaries conference, now in its 7th year, brings together a community interested in driving innovation to transform learning and increase achievement using digital technologies. Educators, education administrators, entrepreneurs, investors, education companies, and technology innovators are all part of the community attending this yearly event.

Who Should Attend?
Entrepreneurs, educators, education administrators, investors, developers, students, and industry experts who are interested in the future and current state of educational technology in early education, K-12 education, higher education or continuing education should attend.
Participants will explore:
The potential of technology to improve education

The impact of digital learning

Hurdles, challenges, best practices, and stories related to moving from a traditional classroom to a digitized environment

Market and investment trends in education technology

The challenges of implementing edtech in various educational settings

Best practices for developing and building a successful edtech company

Current policies and practices affecting edtech
Who is speaking?
Across Boundaries features five keynotes, over 150 speakers in 50 breakout sessions, student showcases, startups, and more. The distinguished group of keynotes includes:
Ryan Craig, Managing Director at University Ventures: "Education Meets Employment"

Melina Uncapher, Assistant Professor, UCSF: "How Can Learning Engineering Be Applied In Schools?"

Mawi Asgedom, CEO of Mawi Learning: "Social Emotional Learning in the Age of Artificial Intelligence"

Dr. Pamela Moran, Executive Director of the Virginia School Consortium for Learning, and Ira Socol, Senior Provocateur and Learning Environment Specialist, Socol Moran Partners: "How to Roadmap Your Journey to Innovation, Creating a Culture of Innovation and Contagious Creativity"

Debbie Cavalier, SVP of Online Learning at the Berklee College of Music/CEO of Berklee Online: "How to Build a Higher Ed Online Powerhouse"
For more information on individual speakers or sessions, visit our website here or download the 2019 LearnLaunch Across Boundaries app on Guidebook.
Registration costs include:
Registration to attend the conference

Morning tea or coffee, break snacks, and lunch each day

Free download of the conference app

A networking afterparty

Certificate of participation (for educators)
Payment
Payment must be received before the start of the conference on Thursday, January 31, 2019. If payment is not received, your registration will be subject to cancellation. Those requiring a purchase order must complete the Purchase Order Form at the time of registration. For other details please contact LearnLaunch at conference@learnlaunch.org.

How do I use a promo code?
If you have a promo code, you can enter it on the first page of the ticket workflow, before selecting your tickets. See the image below if you have difficulty locating the dialogue to enter your promo code.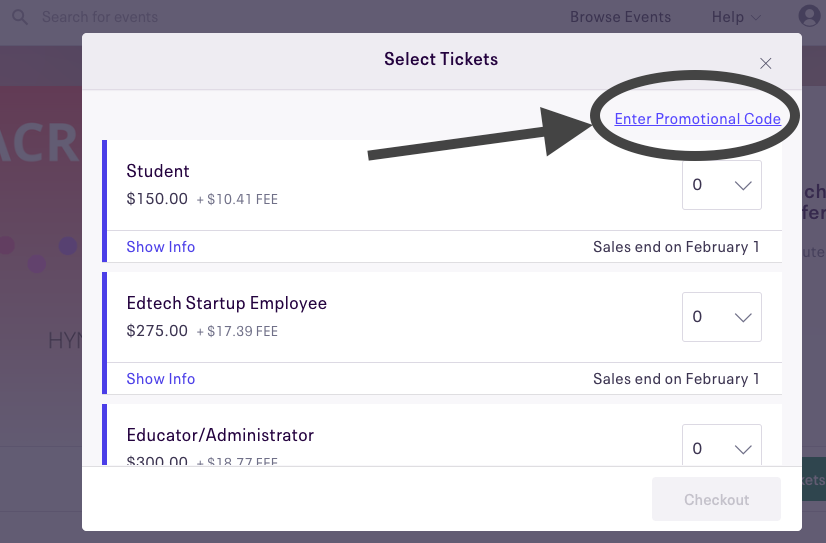 Interested in volunteering?
We love volunteers! Fill our volunteer form using the link below to join. Preference will be given to full-time students.
Volunteer applications are now closed.
Pitch Competition

Early stage edtech companies are invited to participate in the 2019 LearnLaunch Pitch Competition at the 2019 LearnLaunch Across Boundaries conference.
Learning Innovation Showcase
The Learning Innovation Showcase is an opportunity for a school-based team, including at least one educator and three students, to share their innovative learning experience through a demonstration table and Ignite Session (1 minute student-led presentation).
Learn more about this year's Learning Innovation Showcase teams here.
More information
The conference website can be found here.

Press Contact
Jim McManus, Slowey/McManus Communications
jim@sloweymcmanus.com
617.523.0038

Cancellation Policy
Please note that after December 14, 2018, LearnLaunch will charge a $25 cancellation fee for any canceled registration. After January 1, 2019, LearnLaunch will not be able to reimburse you for your registration.

Photo Release
By attending the conference, you agree to release and authorize LearnLaunch to use any photographs or videotapes of yourself in connection with the conference.
------------------