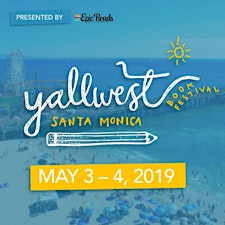 YALLWEST
YALLWEST is an author and teen run young adult and middle grade book festival and non-profit, with the goal of getting books in the hands of those in need and saying the words to get them to open them.
The 2019 YALLWEST Book Festival is on May 4 from 9AM – 7PM at Santa Monica High School. This is a free event with no registration required. We do ticket specific keynotes listed below.
Our Fierce Friday preview events will take place on May 3 at the Santa Monica Public Library, see ticketting info below.
Sorry, there are no upcoming events