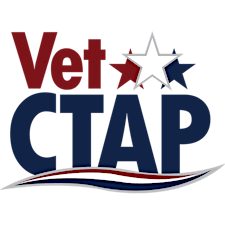 (VetCTAP) Veteran Career Transition Assistance Program
VetCTAP provides a free  job search workshop series and coaching for U.S. transitioning military, veterans, and current spouses. We focus on those who have been in the U.S. military 10+ years and spouses who are looking for professional careers.
See www.vetctap.org
HR and business professionals will share their expertise and experience. This highly successful series is free of charge, but you must pre-register. These interactive and content-rich classes are scheduled for multiple evenings. Plan on attending them all.
Register now to save a seat!
VetCTAP is the dba of JBS Transition Experts. Inc.
"Preparing Our Heroes for Today's Workplace"
Sorry, there are no upcoming events