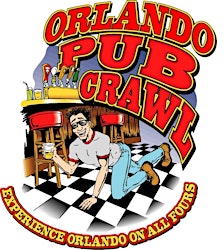 Orlando Pub Crawl
Orlando Pub Crawl LLC is the premier pub crawl company of the greater Orlando area. Our goal is to bring Orlando something new and exciting and to Experience Orlando on all fours.
Mission
OPC's mission is to change the way you experience a night out in Orlando and create a completely unique experience. We want to change just going out to "Experience Orlando on all Fours". Company OverviewOrlando Pub Crawl LLC (OPC) started in 2006 when Cameron Parker and his business partner decided to bring their special breed of fun to the Greater Orlando area. Since that time we have hosted some of the best and the largest pub crawls in Orlando like The Crazy 80's Pub Crawl, I Love the 90's Pub Crawl, The St Practice Day Pub Crawl, and The Get Lei'd Luau.
OPC hosts roughly 15 events a year in Orlando that range from 300-2000 people per event.OPC prides itself on creating a truly unique way to experience a night out in Orlando. In addition to monthly crawls, Orlando Pub Crawl LLC also provides special events throughout the year. This includes such great events as group pub crawl cruises. OPC also works closely with different local charities to benefit the community on select events. We are a firm believer that you must first do good before you can do well. In December, we host our signature charity event The 12 Bars of Christmas Pub Crawl to benefit the Hope Foundation in Central Florida.