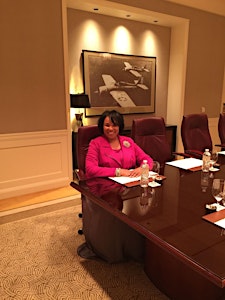 L. Renee Richardson
L. Renee Richardson is an author, motivational speaker, visionary, Christian educator, entrepreneur, billion dollar brand strategist, marketing guru and business empowerment coach.
She is a Bible Scholar & Evangelistic Teacher, Master Wealth Creator and Billionaire Visionnaire & Billionaire Brander.  She has over 35 years in the highest levels of leadership in ministry, business and the corporate sector--the top 2 percent. She hit the six figure mark in her early 30s and more than tripled her income through business ownership. She loves educating, empowering and enligtening the world with the powerful word of God. She enjoys eating ultra-premium ice cream!
 L. Renee serves as the Founder and CEO of Women of Vision and Destiny Ministries, Inc. (www.wovd.org). This international Christian Women's Leadership Center has educated, empowered and enlightened 250,000 women and girls since its birth nearly 17 years ago after a divine impartation from Dr. Ron Cottle (www.roncottle.com).  L. Renee is a certified Christian educator and minister who has served in church leadership for 37 years. She was filled with the Holy Ghost and baptized in Jesus name at the age of ten, called to preach at 13, and began teaching Sunday school at 16.
In 2015, WOVD launched Vision 2025, its goal for U.S. and Global Expansion into 50 states and 7 continents with its WOVDU, the University of Life for Women.
WOVDU speaks to the hearts & minds of the 21st century woman. Women are seeking spiritual guidance on issues relating to being a Christian woman in the home, workforce, marriage, relationships, financial matters and spiritual enrichment and development. 
WOVD launched its Certification in Biblical Counseling and Women's Ministry in partnership with the American Association of Christian Counselors to empower over 1,000 women to become certified leaders in women's ministry by partnering with local churches as satellite campuses.
We are also launching our LOVED (Lord Our Vow is to Empower Our Daughters/Living Our Vision & Exemplifying the Divine) Academies for junior high and high school girls in the U.S. We launched our I am LOVED for Greatness Capital Campaign in May 2017 with a $100 seed offering from Dr. Bill Winston. He gave the $100 to the founder at a conference in Chicago.  L. Renee believed the $100 was meant to be invested in the Kingdom.
L. Renee is committed to what she has passionately advised others to do all her life: Design the Wealthy Lifestyle You Desire…Today! L. Renee, a master negotiator, partners with lawyers to design lease agreements, architects to build restaurants, and real estate brokers to secure retail space. She and hubby, Glen, created their own urban chic new restaurant, Lydia Nicole's Creamery
Café ®, which will be franchised globally.
Known as the Billionaire Visionnaire ®, L. Renee retired from Corporate America after 20 years to pursue her dreams. She was a top ranking media director at Leo Burnett/Starcom managing over a $1 billion dollars in ad spending for Fortune 500 and blue chip clients including Procter & Gamble, McDonald's, Kraft and Allstate. She recruited and mentored many of today's top minority marketing executives from historically Black colleges. Black Enterprise Magazine named her a Diversity Leader.
L. Renee and hubby Glen left their corporate careers, raised funds from their personal finances, wrote a business plan for a $309,000 SBA loan, and raised angel funding to purchase and build out two franchise Marble Slab Creamery stores (www.marbleslab.com) in 2006. They leased premium space on Michigan Avenue in the South Loop for nearly 6 years, employed over urban 100 youth workers, reached over 1.2 million multi-cultural guests and earned over $1 million in sales. 
 When the business declined, Glen and L. Renee went through a dark season and learned how to overcome a recession and navigate the new economy with God's amazing grace. They love to share these life lessons with others. Alderman Pat Dowell offered them the opportunity to build their own chic urban restaurant concept, Lydia Nicole's Creamery Café, in the Bronzeville area.
L. Renee launched Wealth & Riches Today, Inc. (formerly Leap of Faith University) in January 2013 as a global effort to increase the number of businesses who earn $1 million a year in revenue. Currently only 2% of women owned businesses earn over $1 million. The Wealth & Riches Today, Inc. Rich Gurlz Club ® franchise speaks to the hearts and desires of women business owners and hosts Rich Gurlz Five Star Luxury Business SPA Retreats. (www.richgurlzspa.eventbrite.com)
In 2016, she created the Wealth and Riches Today, Inc. Boutique® for entrepreneurs. Wealth & Riches Today, Inc. is a world class, full service business boutique specializing in business start-up coaching, legal business formation and incorporation, life re-invention, money mastery, retail store design, technology, VIP Five Star luxury retreats, Billionaire Branding®, marketing, franchising, business training, strategic planning, accounting and publishing.
We have a league of attorneys, brand strategists, digital pros, database gurus, writers, accountants, real estate experts, health, and HR professionals who are marketplace experts. The Wealth and Riches Today Inc.'s Rich Gurlz Academy® educates and empowers entrepreneurs, ministry leaders, and corporate executives.
L. Renee's new book Discover the Wealth that's in Your House, is selling on Amazon andempowers dreamers. It is based on the life of a widow woman who went from the brink of bankruptcy to become an oil tycoon.
Distinguished as one of Chicago's most "Powerful Business Women" and one of the Marketing industry's most Powerful Execs, L. Renee has received esteemed recognition for her expertise within the Chicago Tribune, Chicago Sun Times, Adweek , Jet Magazine, Black Enterprise (TV & Magazine), Precious Times, and Grace Today magazines and WGN Radio.   She and hubby Glen were featured on WGN news and on local radio.
L. Renee offers Complimentary Coaching on her weekly
POWER UP YOUR FAITH SHOW
  6 am (Central Time Zone)
Listen in at www.freeconferencecall.com/WALL/
 L. Renee can be reached at lrenee@wealthandrichestoday.com
Visit us online at www.wovd.org and www.wealthandrichestoday.com