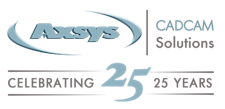 Axsys Incorporated
Axsys is the State of Michigan's premier provider for CAD/CAM solutions.
For over two decades, Axsys has been the leading integrator of CAD/CAM solutions to the engineering and manufacturing communities. Axsys provides complete solutions by integrating operating system, application and enterprise software, as well as hardware ranging from workstations to machine tools and inspection devices.
Axsys focuses on providing CAD, CAM, CNC and Inspection solutions to manufacturers in virtually all industries. Our flagship Mastercam product from CNC Software Inc. of Tolland, CT which we have represented for over 20 years, has been the worldwide industry leading CAM Software Solution for many years.
Axsys prides itself on having the most knowledgeable sales and support teams in the business. Our Executive Management, Sales and Service teams have well over 800 man years of industry knowledge.
Since the beginning, year after year we have earned premier reseller status with many of our software and hardware partners.
This status means that our organization's ability to sell and service the products we represent is among the best in the world and that many organizations have placed their trust and livelihoods in Axsys to enable them to efficiently and profitably utilize high quality products and to meet their personal and business objectives.
In the year 2019, Axsys is selected by MirrorReview as one of The Top 10 Manufacturing Innovaters of 2019 and by Healthcare Tech OUTLOOK as one of the Top 10 Dental Solution Providers of 2019.In the year 2018,
Axsys is selected by Xplorex IT Magazine as one ofThe 10 Best Manufacturing Solution Providers 2018.