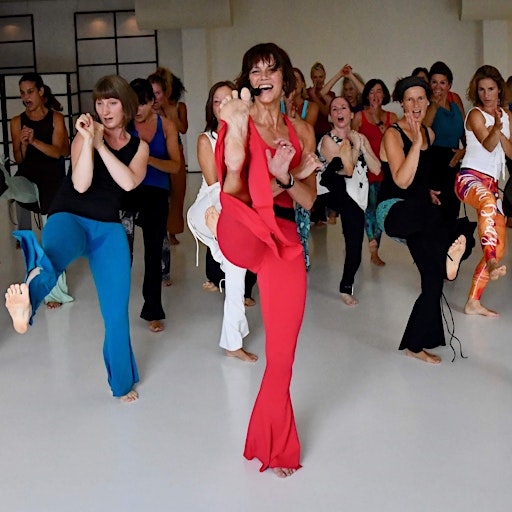 Ann Christiansen
"For me, Nia is an exhilarating culmination of the joys I have pursued throughout my life – movement, music, healing, world cultures, and connecting to humanity. Nia has given me the opportunity to fulfill my life's purpose as a Sacred Athlete and guide to healing. As a Nia teacher and trainer, I inspire people all over the world to enhance their life experience with Music, Movement, and Magic. Nia invites everybody to love and accept themselves fully and to develop their full potential." - Ann Christiansen

My path to becoming a Nia trainer can be traced back to my early passion for swimming. I grew up on the west coast of Sweden and spent entire days playing in the ocean, enjoying a sense of comfort and delight in my body and a sense of oneness with the world. My dedication to swimming opened doors to travel, adventure, and deep appreciation for athleticism and the human body. In 1984 I had the honor of swimming in the Los Angeles Olympic Games and in the European & World Championships. In 1998 I became a World Champion in masters swimming in the 400 and 800 freestyle and in the 400 IM.

Following the 1984 Olympics, I enjoyed a modeling career that took me around the world to Paris, Milan, Zürich, Hamburg and Tokyo where I lived from 1987 to 1992. In Tokyo I taught swimming, wrote four books on swimming techniques and hosted a weekly TV show.

After returning to Europe, I began to study applied kinesiology, massage therapy and alternative healing techniques covering subjects like sound therapy, 7-Chi keys, chakra balancing, and nutritional kinesiology to mention a few. I also had a ten-year career as a physical therapist, and served on the staff of the Swedish National Swim Team between 1996-1997.

Little did I know that my Olympic swimming career and subsequent study of kinesiology, physiology, and energy healing would be excellent preparation for my first encounter with Nia! I experienced my first Nia class in 1997, and though I did not know what to expect, I immediately sensed a fusion of all of my learning and interests up to that point. The intelligence and depth with which The Nia Technique connects body, mind, emotions and spirit is amazing. I knew I wanted to dive in.

The following year I experienced the life-changing Nia White Belt Intensive; I began teaching immediately. My vision was to share and grow Nia in Germany, Sweden, Switzerland and throughout Europe. Although I had no previous experience leading group activities of this kind, I was excited to guide people in a class where they could be seduced by the music and to experience physical fitness with emotional expression. The beauty of Nia is that it conditions your whole being – not just your body.

In 2003 I became a Nia Trainer. Now I am certified to teach all five belt levels of the Nia educational system: White, Green, Blue, Brown and Black. I am also certified to train and educate in "Move I.T" Nia´s newest program , an interval training program focusing on the technique of Nia´s 52 moves. In 2008 the Nia co-founders, Debbie Rosas and Carlos Aya Rosas, selected me as the first Nia Teacher of the Year, and in 2013 I received the first All Star Sacred Athlete Award."

Currently I have 10 Nia classes per week in my hometown Hamburg and I enjoy the intimate detailed work with regular classes as well as meeting new groups on my travels worldwide with workshops and intensives.

I have choregraphed 7 Nia Routines that serves the growth and development of the eniter Nia teacher community. The Routines  Beyond, U, Magic ,Joy, LIFE , RIDE and IGNITE plus the U- class experience that can be enjoyed as a "dance at home" Nia class. All available in the nianow store and on amazon.

I currently share the magic of Nia with communities worldwide, offering Nia Intensive Trainings and classes in  Germany, Switzerland, Austria, South Africa, Sweden, Finland, Denmark, Israel, Belgium, Holland, UK, Italy, Australia, and Bahrain and Online.