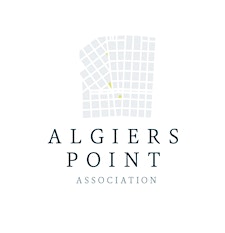 Algiers Point Association
The Algiers Point Association was established as a residents' civic organization in 1972, and has been an important force in the progress and success of our community ever since. The Algiers Point Association (APA) was originally formed to promote historic interest, preserve the architectural integrity, and to promote the civic betterment and social improvement of the residents of Algiers Point, that area bounded by Atlantic and Newton Streets and the Mississippi River. 

Through the efforts of the APA, the Algiers Point Historic District was added to the National Register of Historic Places in 1978. The area became a city Historic District in 1994.
The Algiers Point Association is a 501(c)(3) non-profit organization.
Sorry, there are no upcoming events