ZPH Workshop: Towards Establishing "The Business Case for Planning Sustaina...
Description
At the Zofnass Program at Harvard, ongoing research on "the Business Case for Planning Sustainable infrastructure" indicates that sustainability pays off. Sustainability contributes to savings and to avoiding costs and reducing the risks. The April 2019 Zofnass Workshop is dedicated to discussing insights through case studies, where sustainability is a central part of the project's strategy.
The April ZPH Workshop will serve as a platform to further understand trends, fundamental partnerships, innovative schemes, and the value that sustainable projects bring for people, profitability and the environment. Panelists and attendees will further explore how sustainable infrastructure contributes to the global Sustainable Development Goals (SDGs) of the Paris accord.
The panels are structured according to either (1) case studies, which we have already studied or (2) projects that have the potential to develop into case studies to fill gaps in our research spectrum. The panels focus on sustainable project portfolio management, sustainability-linked financing, sustainability in developing countries, zero emissions vehicles, autonomous vehicles improving efficiencies, solar hybrid microgrids in emergency power operations, natural capital approach to water infrastructure, digital models improving project delivery and asset performance, among others. The ZPH Sustainable Infrastructure Advisory Board members, key partners in case study development, will have an active role in the presentation and moderation of the panels.
Event website and reading material: https://research.gsd.harvard.edu/zofnass/menu/events/forthcoming/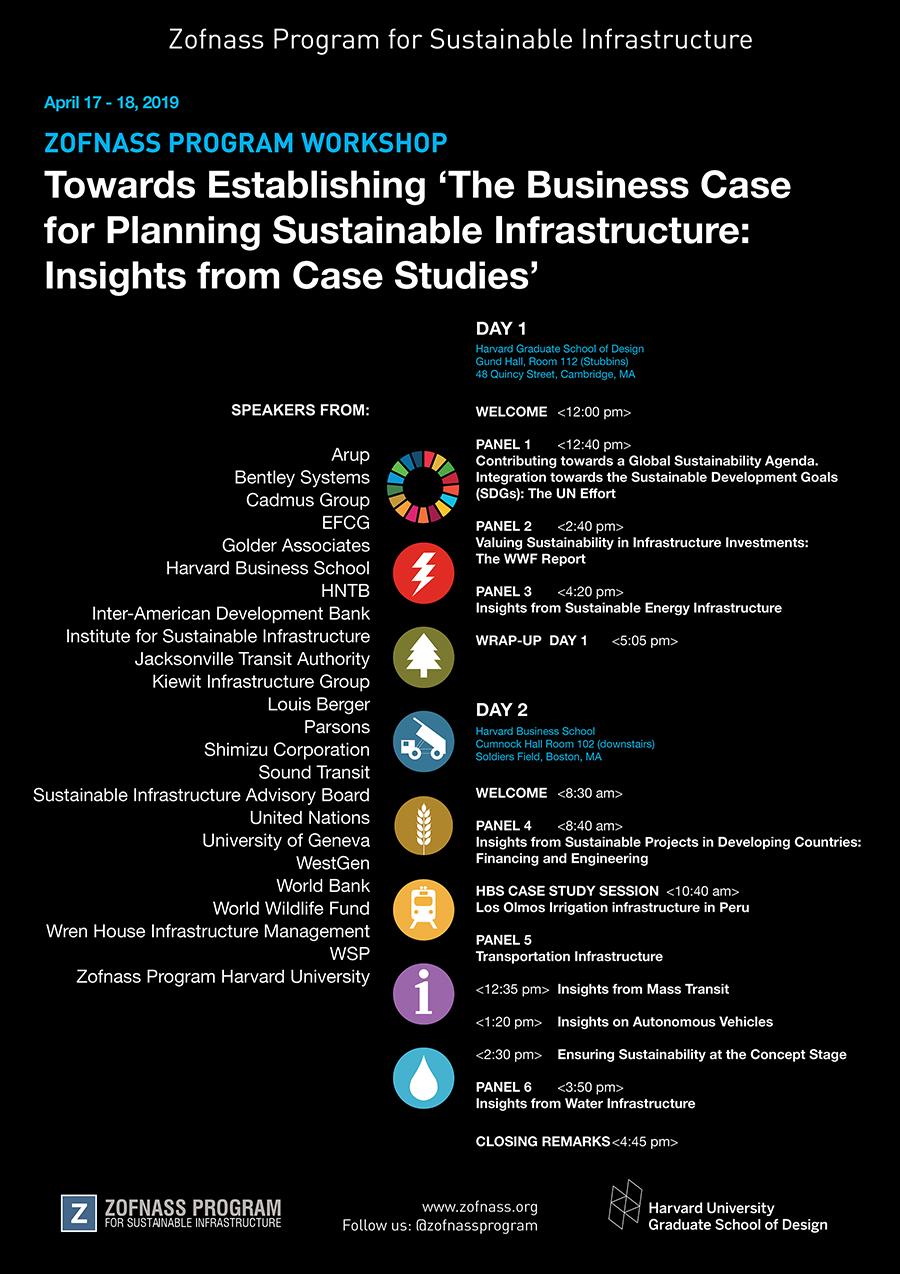 FAQs
What are my transportation/parking options for getting to and from the event?
Public transportation is recommended, as well as other mobility options such as taxi, Uber, Lyft.
However, if you wish to obtain a parking permit you may do so by going to the following website: https://onedaypermit.vpcs.harvard.edu/cgi-bin/permit/purchase.pl
(Instructions: Click visitor. Click to register. Create an account. For department list the Graduate School of Design. For the code list 1001).
Are there accomodation suggestions?
Please find accomodation suggestions at link.