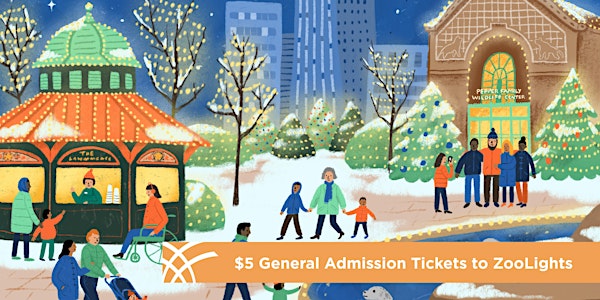 ZooLights | $5 General Admission Tickets | Select Dates Listed Below
Chicago's favorite holiday tradition is back and better than ever in 2022!
When and where
Location
Lincoln Park Zoo 2400 N Cannon Chicago, IL 60614
Refund Policy
Contact the organizer to request a refund.
About this event
Purchase tickets for ZooLights here for the following dates:
Nov. 19, 20, 22, 23, 25, 26, 27, & 30
Dec. 2, 3, 4, 6, 7, 8, 9, 10, 11, 13, 16, 17, 18, 20, 21 22, 23, 27, 28, 29, & 30
Jan 1
Tickets are $5. All ticket sales support the zoo's world-class animal care, global conservation, and innovative learning programs.
To purchase tickets for another date, including sensory-friendly, Members-Only, and free ticket nights, please visit lpzoo.org/zoolights.
OVERVIEW
Chicago's favorite holiday tradition, ZooLights Presented by ComEd and Invesco QQQ is back and better than ever in 2022! Come experience gorgeous light displays and a thrilling holiday light tunnel experience on Main Mall. Be sure to check out Candyland Light Show Sponsored by UChicago Medicine Comer Children's Hospital on the Winter Wonderlawn.
MORE INFO
Tickets are required for all guests, including infants and children. Monday nights are free and Tuesday through Sunday, tickets are $5. To learn more, visit lpzoo.org/zoolights.
Nightly capacity is limited to foster a safe and enjoyable guest experience, meaning there's more space to enjoy the beautiful lights with your family and friends!
FAQ
When do tickets go on sale?
Tickets for Lincoln Park Zoo Members become available October 13 and tickets to the general public will be available October 20. All ticket links are slated to go live around 11 a.m. on their respective release dates. Find links to purchase tickets at lpzoo.org/zoolights.
Does my child need a ticket?
Yes, every individual in your party must have a ticket for entry, including infants, children, and Lincoln Park Zoo Members.
Is there a free evening?
Yes, Monday evenings will be free, but you must register for a free ticket on Eventbrite. You may reserve up to six (6) tickets per Eventbrite transaction.
Are tickets free for Members?
Regular ZooLights nights require $5 entry for everyone. However, Lincoln Park Zoo members and their guests get exclusive, free access to ZooLights on Friday, November 18, and Wednesday, December 14. Members must still register for tickets on Eventbrite for those nights. Not a member? Visit lpzoo.org/join to learn about membership benefits.
Will more tickets become available at a later date?
We suggest buying your tickets early as we cannot guarantee tickets will be available at a later date or at the event.
What time should I arrive at ZooLights?
Please check your PDF ticket to confirm your assigned entry time. You will have a 30-minute entry window. Please note that the confirmation email will indicate the night's ZooLights operating hours but you should refer to your ticket for your designated entry time.
Is parking available?
Limited paid parking is available in the zoo's lot on Cannon Drive. For additional information on parking, please click here. Parking is not included in the price of your entry ticket.
For assistance with getting to Lincoln Park Zoo, plan your route here.
Do I need to print my ticket?
Nope! All guests must show their ticket for entry to ZooLights, but you may do so on your mobile device via the emailed PDF, printed PDF, or through your Eventbrite app.
For the most efficient experience, please take a screenshot of your ticket in advance, and turn your phone's brightness to the maximum when approaching the gate.
What if I am late or early for my 30-minute entry window?
Please arrive as close as possible to your designated time. We do understand that things happen, and will do our best to accommodate. In the event that this does happen, please be patient with our staff as they scan others in. We want everyone to have a wonderful experience.
Can I transfer the ticket to another date if I can't make it?
Unfortunately not, but you can transfer the ticket to another person and purchase another date.
Where do I buy tickets for ZooLights attractions?
Tickets for the Light Maze Presented by Invesco QQQ, AT&T Endangered Species Carousel, the 65-foot Ferris wheel and Lionel Train Adventure can be purchased on zoo grounds during your visit. Locations include the Searle Visitor Center, the AT&T Endangered Species Carousel, Gift Shop and Lionel Train Adventure.
Can I download a program ahead of time?
Please do! Programs are only available digitally and it is recommended to download the program and map in advance. Visit lpzoo.org/zoolights to access both.
Are masks required?
Lincoln Park Zoo follows CDC, city, and state public health guidelines for outdoor events. Please wear a face covering inside the animal buildings as the impacts of COVID-19 on many species is still unknown.
What if it rains/snows during ZooLights?
ZooLights takes place rain or shine. Please dress accordingly.
What are sensory-friendly visit times?
Lincoln Park Zoo is offering one sensory-friendly ZooLights evening on November 29 from 4:30-10 p.m. Tickets are $5. During this evening, all blinking or moving lights will remain static or turned off. Music will be turned off, or turned to a low volume, as well. Please email accessibility@lpzoo.org with questions.
What is Light Up the Lawn and how much does it cost?
Each evening at 4:30 p.m., Lincoln Park Zoo offers a guest, sponsor, or partner the opportunity to "flip the switch" on the Candyland Light Show Sponsored by UChicago Medicine Comer Children's Hospital on the Winter Wonderlawn. This is a fun, paid experience that makes a great gift, fun family gathering, corporate event or proposal—and an even better photo/video op! For more information on availability and pricing, contact events@lpzoo.org.
Where can I take my photo with Santa?
You can take a photo with Santa in Helen Brach Primate House nightly from 4:30–8:30 p.m. through December 23 before he returns to the North Pole.
Will I see animals?
Most outdoor and indoor habitats will be open for viewing during ZooLights. However, some buildings and areas may be closed at various times throughout the season for animal care needs or private events. Animals at Lincoln Park Zoo have access to behind-the-scenes spaces and can choose where to spend their time and if they'd like to be in view of guests.
What are the age restrictions for this event?
ZooLights is an all-ages event. However, all guests must have a ticket—including infants and children.
Can I purchase tickets at the door?
All tickets must be purchase by guests at lpzoo.org/zoolights or via EventBrite. Lincoln Park Zoo will not have staff or kiosks for selling tickets at event gates.
What can't I bring to ZooLights?
Food and alcohol purchased outside the zoo is prohibited, along with firearms or weapons of any kind. Smoking or vaping tobacco and cannabis are also prohibited for the health and safety of our animals and visitors. Pets are not allowed at the zoo, but service animals are welcome. Learn more at lpzoo.org/accessibility.
Lincoln Park Zoo's Code of Conduct can be found here.
Can I bring a group of people to ZooLights?
Any groups under 25 people can purchase their ZooLights tickets through Eventbrite. Transactions are limited to 6 tickets for free nights and 10 tickets for paid nights but you are able to make multiple transactions. Groups of 25 people or more who are interested in contracting event space and catering should reach out to groupsales@lpzoo.org.
I have a question about ZooLights. Who should I contact?
Would you like to sponsor ZooLights? Email corporatealliances@lpzoo.org.Interested in a hosting a private event during ZooLights? Email tigerlilyevents@lpzoo.orgDo you have accessibility needs and would like assistance buying a ticket? Email accessibility@lpzoo.org.Other questions or issues not listed here? Email events@lpzoo.org.
What COVID-19 safety protocol and instructions should I follow?
By purchasing a ticket to ZooLights, I agree to maintain social distancing of six feet or greater whenever possible to maintain public health and safety. I agree that I and all members of my party will adhere to all regulations regarding facial coverings and understand guests ages 2 and older must wear facial coverings indoors for guest and animal safety. I understand the zoo must adhere to City and State guidelines in order to remain open to the public. I understand I may be asked to leave the zoo if I do not abide by these regulations and will not be refunded for purchases made.
As a reminder, an inherent risk of exposure to COVID-19 exists in any public place where people are present. COVID-19 is an extremely contagious disease that can lead to severe illness and death. According to the Centers for Disease Control and Prevention, senior citizens and guests with underlying medical conditions are especially vulnerable. By visiting Lincoln Park Zoo, you voluntarily assume all risks related to exposure to COVID-19.