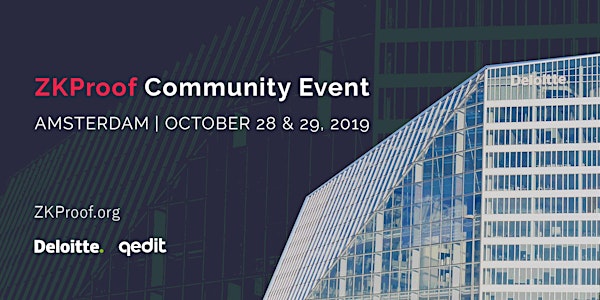 ZKProof Community Event: Amsterdam'19
When and where
Location
Amsterdam Gustav Mahlerlaan 2970 Amsterdam Netherlands
Refund Policy
Refunds up to 7 days before event
Description
Join us in October
Deloitte and QEDIT are pleased to co-organize the first-ever community workshop for the ZKProof standardization initiative in Europe.
The Event
When: October 28th-29th 2019
Where: The Edge, Deloitte, Amsterdam
The two-day event will bring together top researchers, developers and practitioners as part of an ongoing effort to standardize zero-knowledge proof (ZKP) cryptography. In addition to discussing the latest academic achievements/breakthroughs in the field, we will also focus on practical applications for ZKP privacy schemes.
Day 1: general talks and presentations by industry and academic experts
Day 2: will include talks, showcasing of projects, short tutorials, as well as discussions on how to move the global standardization initiative forward.
Further Details
The talks and tutorials are focused on exploring the state of the zero knowledge industry, mainly as it pertains to the blockchain space. Some of the topics included in the event are:
Enterprise use-case exploration, from identity such as KYC and AML, to financial asset transfer, supply chain traceability and many more.

Impact of cryptography on regulation and legislation, such as auditability properties of confidential systems.

Showcase and tutorials of the latest developer tools in the community used to write contraint systems and applications based on ZK.

Theoretical advances of zero-knowlede proof systems, improving the trade-offs between efficiency and security.

Specific topics to advance the standardization process, such as programmability and scripting, benchmarking of ZK systems and more.
About ZKProof
ZKProof is an open-industry academic initiative that is part of a global movement advocating for the standardization of advanced cryptography. Establishing a common set of ZKP standards will bring better security assurance and greater interoperability to data privacy products and applications – both of which are essential for market adoption. ZKProof's work, as reflected in the ZKProof Community Reference document, is an indispensable resource to developers and practitioners who are looking for a trusted framework for implementing ZKP schemes and applications.
Apply for a free ticket
To make this event more accessible and inclusive, we are offering a limited number of sponsored tickets for individuals who would like to attend but cannot afford the ticket price. To apply for a free ticket, please send an email to contact@zkproof.org explaining why you would like to attend.


Schedule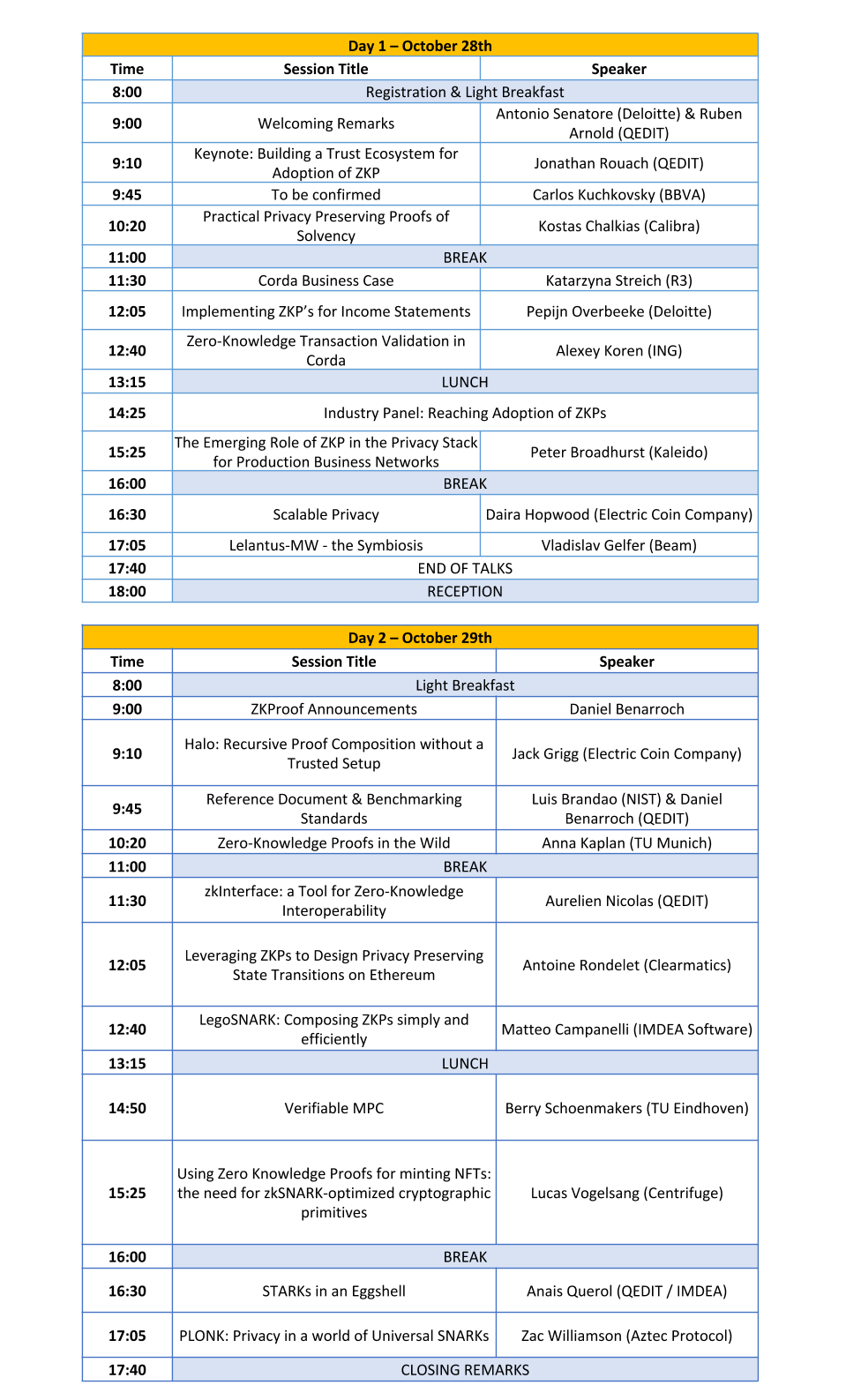 Abstracts