Description
Zeroing in on Intermediate Algebra/Integrated III: A Problem-Solving Symposium
Friday, August 11, 2017
— Kearny High School
Don't wait, register today to reserve your space at this no-cost symposium. Visit the symposium website.
Sponsored by the San Diego and Imperial Counties Community College Association (SDICCCA), San Diego Unified School District, San Diego Math Network and UC San Diego
How can K-12, community college, and higher education educators work together to develop new pathways for student success in math?
What's keeping a large segment of students from transferring from community college to a four-year university?
Join a dedicated group of educators from San Diego regional high schools, 10 community colleges, San Diego Math Network and UC San Diego at a one-day symposium to discuss the primary roadblock to college success: Intermediate Algebra/Integrated Math III.
Intermediate Algebra (Algebra II/Integrated III) is the number one stumbling block for student success and is also the "gatekeeper" to college transfer-level math courses.

This summer, plan to attend and collaborate with a broad range of K-20 colleagues from across the region to improve student math achievement in Intermediate Algebra. The symposium agenda includes large and small group sessions where attendees will:
Review student data from high school, community college and four year universities.
Hold honest conversations about what techniques/approaches work for Intermediate Algebra.
Discuss development of outcome strategies for working together to develop success pathways for students to succeed.
Participatie in breakout sessions where high school, community college and four-year university math instructors and educational leaders present successful models each level is using for Intermediate Algebra.
Brainstorm about next steps the region can take to help students succeed in Intermediate Algebra.

A limited number of mini "ignitor funds" will be available for cross-institutional teams to apply for at the event itself to continue conversations post the Zeroing-in Event. Only participants in attendance may apply for the funds, although they may include others not in attendance on their ignitor team.
Breakfast and lunch are included. Maximum of 300 attendees are allowed.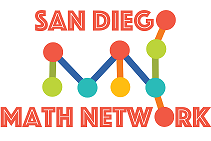 This event is supported by the San Diego Math Network, a regional network comprised of teachers from four local districts: Vista, San Diego Unified, Sweetwater and Chula Vista along with partners at UC San Diego-CREATE and the UC San Diego partner schools Preuss and Gompers Preparatory Academy. The purpose of the SDMN is to bring together educators and educational leaders in K-14 who want to work together to improve mathematics education for all students through teacher professional development experiences and the sharing of collective resources. SDMN thanks generous funding from the Gates Foundation that underwrites this work. Visit our website for more information.