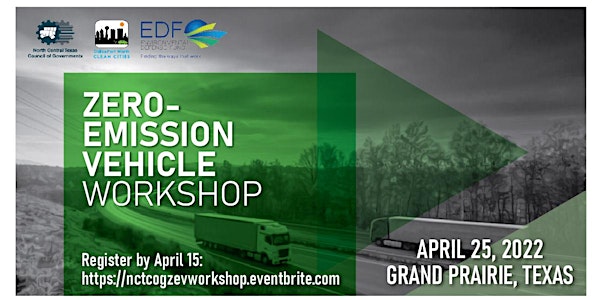 Zero-Emission Vehicle Workshop
Join NCTCOG/DFWCC and EDF for a Zero-Emission Vehicle (ZEV) Workshop, including a vehicle display, Monday, April 25, 2022 in Grand Prairie!
When and where
Location
Ruthe Jackson Center 3113 South Carrier Parkway Grand Prairie, TX 75052
About this event
Join the North Central Texas Council of Governments (NCTCOG)/Dallas-Fort Worth Clean Cities and the Environmental Defense Fund (EDF) for a Zero-Emission Vehicle (ZEV) Workshop on Monday, April 25, 2022! This workshop encompasses both battery electric and hydrogen fuel cell electric technologies. The event will:
Showcase the state of ZEV fueling infrastructure, including recommendations on ZEV infrastructure development from the NCTCOG-led I-45 Zero Emission Vehicle Corridor Plan
Educate attendees about medium- and heavy-duty vehicles
Discuss funding for ZEV projects, including highlights from the Bipartisan Infrastructure Law
Include a vendor display and ride and drives of medium- and heavy-duty ZEV vehicles and infrastructure technologies. Confirmed vendors and vehicles include: Hyliion's Hypertruck ERX, Lonestar Specialty Vehicle's All-Electric Terminal Tractor, Nikola's TRE: Battery-Electric Daycab Semi-Truck and Mobil Charging Trailer (MCT), Toyota's Mirai and bZ4X, Nissan Leaf, and XOS Electric Step Van
Lunch is provided.
The Zero Emission Vehicle Display and Ride and Drives planned from 3:00-5:00 p.m.
Who Should Attend: Stakeholders representing public and private fleets, infrastructure developers, fuel providers, and government agencies interested in the deployment of ZEV.
Registration: Registration is required and attendees are encouraged to register as soon as possible as space is limited. NCTCOG will confirm attendance with all registrants before the event. Registration will close on Friday, April 15th.
About NCTCOG:
Since 1974 NCTCOG has served as the Metropolitan Planning Organization (MPO) for transportation for the Dallas-Fort Worth area. NCTCOG 's Department of Transportation is responsible for the regional planning process for all modes of transportation. The department provides technical support and staff assistance to the Regional Transportation Council and its technical committees, which compose the MPO policy-making structure. In addition, the department provides technical assistance to the local governments of North Central Texas in planning, coordinating, and implementing transportation decisions. For more information, see North Central Texas Council of Governments (https://www.nctcog.org/trans).
About EDF:
EDF believes there is a clear and urgent need to drive down pollution from medium- and heavy-duty vehicles, which contribute to climate change and cause serious harm to human health. Companies, transit agencies and other organizations that operate large fleets understand this, and are moving swiftly to zero-emission alternatives. Manufacturers, recognizing the growing demand for zero-emission vehicles, are racing to bring more of these vehicles to market.
EDF's Zero-Emission Truck Initiative aims to accelerate the clean energy transition in the heavy-duty vehicles sector. We do this by securing transformational, durable public policies that will drive the long-term turnover in the vehicle stock; and partnering with fleets to increase near-term truck and bus deployments.



None