Event Information
Location
233A HUB-Robeson Center
State College, PA 16801
Description
Join Eric Sedlar, Oracle Labs VP and Technical Director, for a discussion of GraalVM, a new meta-interpreter designed to more efficiently execute multiple programming languages. Computational researchers who rely on multiple interpreted programming languages (such as Python, R, or Ruby) for their work can find that doing so leads to inefficiencies and duplicated efforts, since each program has its own interpreter performing similar tasks. GraalVM is intended to address this problem.
Seating is limited; please RSVP. Also, please share this event with other faculty who are interested in high-performance computing and big data research at Penn State.
About the Speaker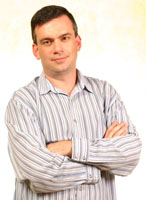 Sedlar is the vice president and technical director of Oracle Labs. In this role, Sedlar works to transfer results from the Labs' research into Oracle products and services, as well as to set the overall technical direction for new research projects. His own research interests are in domain-specific languages and acceleration of database operations both via new hardware and using just-in-time compilation. He holds over 68 patents, and has served on standards organizations for Oracle in the World Wide Web Consortium and the Internet Engineering Task Force.
Date and Time
Location
233A HUB-Robeson Center
State College, PA 16801