Description
Bestselling Author Elaine Ambrose comes to Las Vegas to share her successful writing workshops and describe her experiences with writing and publishing nonfiction and memoir. She is the author of ten books, and her recent memoir Frozen Dinners reached #19 on Amazon's bestseller list. She will be joined by popular blogger, inspirational writer, and gourmet sous chef Donna Beckman Tagliaferri.
This workshop is designed for intermediate writers who want to expand their work in the areas of non-fiction, personal essay, and memoir. Using creative techniques, musical prompts, and targeted anecdotes, Ambrose will guide participants through a review of their own experiences to enhance their ability to "write what you know." Donna Beckman Tagliaferri will lead a discussion about overcoming self-doubt and explain how writers can maintain their confidence and focus as they create and write stories.
The workshop includes the empowering experience of reading aloud to a group. Registration is limited to 20 people. The $100 fee covers Saturday's workshops, all materials, refreshments, and a fancy lunch.
Elaine Ambrose is an award-winning, bestselling author of 10 books. Four of her recent books won six national writing awards, and her memoir Frozen Dinners is a bestseller out of 60,000 memoirs available on Amazon. Ambrose lives in Idaho and presents writing workshops at conferences across the country, including the prestigious Erma Bombeck Writers' Workshop. Read about her books, blogs, and events at http://ElaineAmbrose.com.
Donna Beckman Tagliaferri is the co-owner of Ray Ray's Fine Food Catering in Las Vegas. She blogs at www.bleachervision.blogspot.com, offers freelance writing assistance, and maintains a positive presence on various social media platforms.
AGENDA:
9:00 am - Introductions
Writing Workshop: The Delicious Art of Word Stew
Writing Workshop: Your Journey is Your Story
Writing Workshop: Music as Muse
Writing Workshop - Presented by Donna Beckman Tagliaferri - Writing with Fearless Focus
Assignments
Luncheon – Workshop: Reading and Speaking - Participants Read Their Work
2:00 pm – Assignments and Adjourn Participants can remain on site until 3:00 pm to write and socialize. Bring samples of your writing, paper, pen, and/or computer for writing and reading assignments. No refunds after April 6.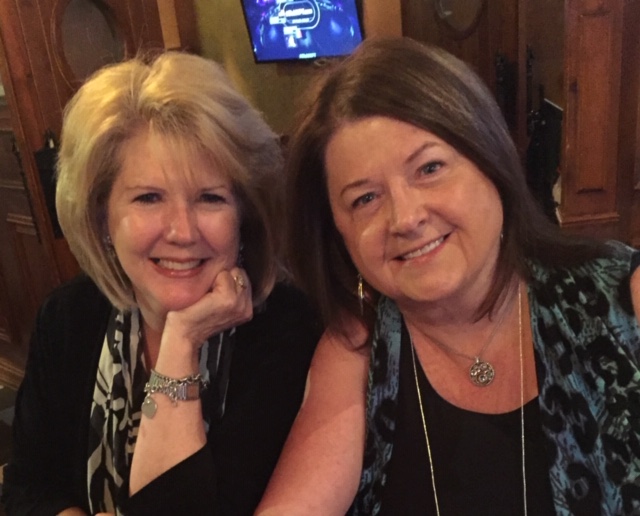 Donna (left) and Elaine