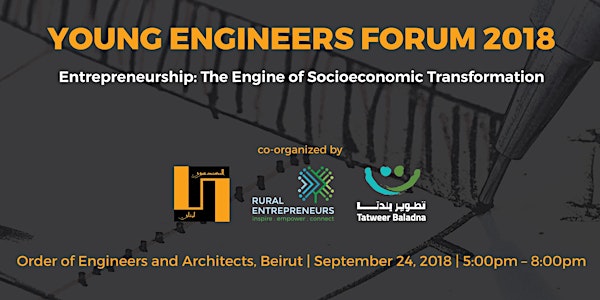 YOUNG ENGINEERS FORUM 2018
When and where
Location
Order of Engineers and Architects - Beirut Engineer Street Beirut بيروت, محافظة بيروت Lebanon
Description
Entrepreneurship: The Engine of Socioeconomic Transformation
Co-organized by: Order of Engineers & Architects, Rural Entrepreneurs and Tatweer Baladna
Purpose: To highlight the role and importance of Entrepreneurship in Lebanon.
i. Registration & Networking (30 min)
ii. Opening Speeches (20 min)
a. ArchitectJadTabet-PresidentattheFederationofLebaneseEngineers
b. Eng.FirasBouDiab-BoardMemberattheOrderofEngineers&
c. Mr. Haitham Saab, Founder & President at Rural Entrepreneurs
Part II (5:50pm – 6:20pm) Introduction – Keynote Speakers
i. Mrs. Carole Issa, Founder at Alephpreneur
Innovate your Way from Engineer to Disruptive Entrepreneur.
ii. Eng. Wissam Youssef, Co-founder and CEO at CME Lebanon Successful Journey into Entrepreneurship and Innovation.
Part III (Panel discussion – 6:20pm – 7:00pm)
i. Challenges & Opportunities for Entrepreneurs in Lebanon - Overview of entrepreneurship development in Lebanon and its impact on the socioeconomic transformation.
i. Mrs. Asmahan Zein, President at Lebanese League for Women in Business (LLWB)
ii. Eng. Ramzi Salman - CEO at Entreprises AR Hourie - Founder at Bkerzay Sustainable Development
iii. Eng. Ramy Boujawdeh, Deputy General Manager at Berytech
iv. Moderator: Mr. Fouad Berjawi, TV Presenter at TeleLiban
Part IV (7:00pm – 7:30pm)
Showcasing Innovative Startups for Young Engineers
Wrap-up and concluding remarks
Note: This event is free and open to public.