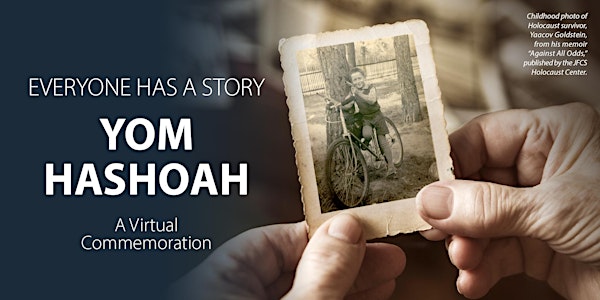 Yom HaShoah 2022—A Virtual Commemoration
Special virtual community events commemorating Yom HaShoah.
Refund Policy
Contact the organizer to request a refund.
About this event
Come remember and reflect with us at our community's Yom HaShoah gathering
What do our painful memories as a community compel us to do at this time of new war in Europe? What are the moral dilemmas and historical ironies we face? What are the differences and similarities of our Jewish experiences then and now? What is to be done going forward?
Wednesday, April 27th
4:00 pm (PT) — Reading of the Names (*To remember loved ones on this day, please submit their names here.)
6:00 pm (PT) — Memorial Commemoration and Program: Memory, Morality, and This Moment In History
On April 27, join the JFCS Holocaust Center for a virtual reading of the names and community yizkor service. Our program also includes a conversation with JFCS Executive Director, Dr. Anita Friedman, Filmmaker Yoav Potash, and Community Leader Aaron Tartakovsky.
Clergy from San Francisco synagogues and the Israeli Consul General will participate.
Thursday, April 28th
On April 28th, join the JFCS Holocaust Center for a Day of Commemoration in honor of Holocaust remembrance. 
Attend one or all sessions. Registrants will receive links to join each session via email prior to the day's events.
10:00 am (PT) — Leon, William J. Lowenberg Speakers Bureau, Holocaust Survivor Testimony
7:00 pm (PT) — Susan Gilson Miller in conversation with David Biale: Years of Glory: Recovering the History of the Holocaust in North Africa
The 2022 Yom HaShoah Day of Commemoration is presented by the JFCS Preisler Shorenstein Institute for Holocaust Education.
For more information, click here.
Presented by JFCS HOLOCAUST CENTER in partnership with:
American Jewish Committee, Congregation Adath Israel, Congregation Am Tikvah, Congregation Beth Sholom, Congregation Chevra Thilim, Congregation Emanu-El, Congregation Ner Tamid, Congregation Sherith Israel , Consulate General of Israel to the Pacific Northwest, Jewish Community Center of San Francisco, Jewish Community High School of the Bay, Jewish Community Relations Council, Jewish Partisan Educational Foundation, JIMENA, Keshet: for LGBTQ Equality in Jewish Life, New Lehrhaus, Or Shalom Jewish Community, San Francisco Hillel, San Francisco Interfaith Council, Sha'ar Zahav, Stanford University Press, and The Center for Jewish Studies at UC Davis.
If you would like to make a tribute in memory of a loved one to support Holocaust education please go to https://holocaustcenter.jfcs.org/donate or send a check to JFCS, P.O. Box 159004, SF, CA 94115 or call Lois Wander at 415-449-1264.