Description
Join the Yerba Buena Alliance for a networking mixer at the Museum of Performance + Design.
Yerba Buena Third Thursday is a way to get out and explore the vibrant art and culture district of downtown San Francisco and get to know the neighborhood. Join us as we mix, mingle and get to know your neighbors. Light refreshmetns will be provided. Following the networking mixer is an all new and cool self guided tour you can take of the museum's exhibition called Archive Live that lasts about 20 mins.

The Yerba Buena Alliance welcomes the neighborhood to come and chat casually with the neighbors about all of the upcoming changes and development in the area, share thoughts and ideas about the Yerba Buena with likeminded individuals.
You can also experience all of the other great art and culture instititons in the area. You can learn more about Yerba Buena Third Thursdays on the Facebook page.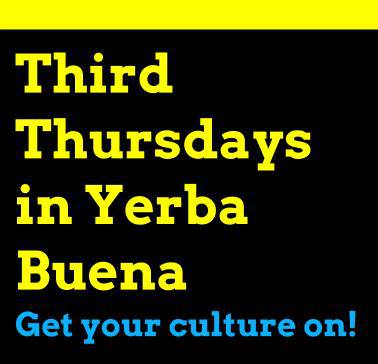 Yerba Buena Third Thursday is a montly collaboration between the Yerba Buena neighborhood's art and culture organizations. After wandering the blocks between Market and Harrison and Second and Fifth Street in the Yerba Buena area, you can get your bright yellow Third Thursday sticker which gets you exclusive discounts and happy hour pricing from B Resturant and Bar, Novela and Thirsty Bear.
This event is free and open to the public. All are welcome.