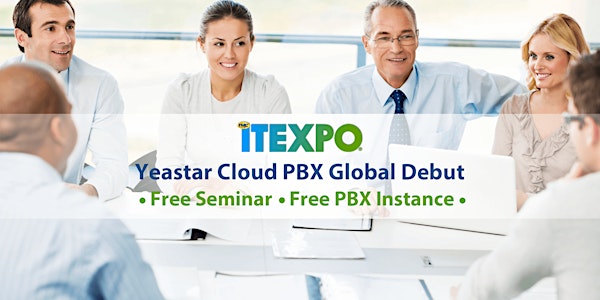 Yeastar ITEXPO East 2018 Pre-show Seminar on Yeastar Cloud PBX
Date and time
Tuesday, February 13, 2018 · 9:30am - 3pm EST
Location
Room 210, Broward County Convention Center 1950 Eisenhower Boulevard Fort Lauderdale, FL 33316
Description
Yeastar will present a FREE seminar on February 13, 2018 at the Broward Convention Center right before the ITEXPO East 2018!
The trend to the cloud is almost universal. With the all-new Yeastar Cloud PBX we are able to help you win a steady stream of new customers now. In hope of helping participants become more proficient at our latest offering, this seminar will provide attendees in-depth information about cloud technology applied in telecommunication industry, a comprehensive introduction of Yeastar Cloud PBX, live demonstration of Yeastar Management Plane and helpful tips on how to start hosted PBX business. Basically everything you need to know before entering the cloud voice arena.
Get A FREE Yeastar Cloud PBX Instance
We prepare you extra bonus! EACH attendee will receive a FREE Yeastar Cloud PBX instance in this seminar. A fully-functional business phone system with advanced PBX features and zero upfront cost. Please bring your PC with you so that you can field test Cloud PBX right away.
We offer you two recurring sessions delivered in English and Spanish. Just pick one that best fits your schedule. Free tea, coffee and snacks will be provided during the seminar.
Sessions available:
9:30 - 11: 30 (English)
13:00 - 15:00 (Spanish)
This seminar is totally free to attend, but space is limited, so register early to secure a seat.
About the organizer
Yeastar provides cloud-based and on-premises VoIP PBXs and VoIP gateways for SMBs and delivers Unified Communications solutions that connect co-workers and clients more efficiently. Founded in 2006, Yeastar has established itself as a global leader in the telecommunications industry with a global partner network and over 100,000 customers worldwide. Yeastar customers enjoy the flexible and cost-effective communications solutions that have been consistently recognized in the industry for high performance and innovation. For more information about Yeastar or to become a Yeastar partner, please visit https://www.Yeastar.com.