Refund policy
Contact the organizer to request a refund.
Eventbrite's fee is nonrefundable.
Read on for important registration and book order details!
About this event
Sink into YA horror with Alexa Donne (The Ivies) and Emily Arsenault (When All the Girls Are Sleeping)!
All books purchased on this page will include a signed, personalized bookplate.
How to Register
Register on this page to receive a Zoom link
Register free, pay what you like, or buy the book to enter the event
If you don't receive a confirmation email after registering, contact us right away
Get Your Books
Books are held for pickup or shipped after ticket sales have closed.
STORE PICKUP- Pick up your book in person at Brookline Booksmith (Click here for directions). You will receive an email alert when your book is ready.
SHIPPING - Have your book shipped via USPS priority mail. Shipping is only available in the United States.
If you have trouble checking out, check the Eventbrite FAQ located here.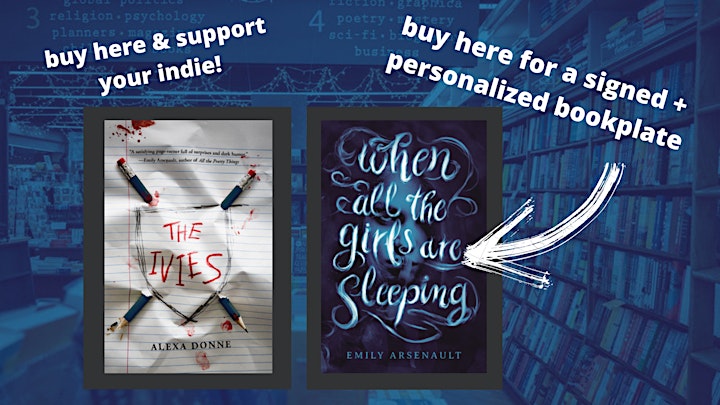 The Ivies
Everyone knows the Ivies: the most coveted universities in the United States. Far more important are the Ivies at Claflin Academy, five girls with the same mission: to get into the Ivy League by any means necessary. They disrupt class ranks, club leaderships, and academic competitions...among other things. They improve our own odds by decreasing the fortunes of others. Because hyper-elite competitive college admissions is serious business. And in some cases, it's deadly.
Alexa Donne is the author of Brightly Burning and The Stars We Steal, YA sci-fi romance retellings of classics set in space, and The Ivies, a thriller set in the world of competitive college admissions, out now from Crown/Random House. A proud BU Terrier, she works in TV marketing, runs the Author Mentor Match program, and has over 100K subscribers on YouTube. You can find her in most places @alexadonne.
When All the Girls Are Sleeping
Windham-Farnswood Academy is beautiful, prestigious, historic--the perfect place for girls to prep for college. But every student knows all is not as it seems. Each January, the Winter Girl comes knocking. She's the spirit who haunts the old senior dorm, and this year she makes no exception. This month also marks the one-year anniversary of the death of Haley's ex-best friend, Taylor. When a disturbing video of Taylor surfaces, new questions about her death emerge.
As Haley digs into what really happened to Taylor, her search keeps bringing her back to the Winter Girl. Haley wants to believe ghosts aren't real, but the clues--and the school's dark history--say otherwise. Now it's up to her to solve the mystery before another life is taken.
Emily Arsenault is the author of nine suspense novels, most recently When All the Girls Are Sleeping, a YA psychological suspense and ghost story from Delacorte/Random House. Her other titles include The Last Thing I Told You, The Leaf Reader, and the New York Times Notable Crime novel The Broken Teaglass. She lives in Shelburne Falls, MA.
About Brookline Booksmith
We are one of New England's premier independent bookstores, family-owned and locally run since 1961. We offer an extensive selection of new, used, and bargain books; unique, beautiful gifts; award-winning events series; and specialty foods. Every day, we strive to foster community through the written word, represent a diverse range of voices and histories, and inspire conversations that enrich our lives. Find more at brooklinebooksmith.com!
Barring technical difficulty, auto-transcription is enabled on all Brookline Booksmith Zoom Webinar events.