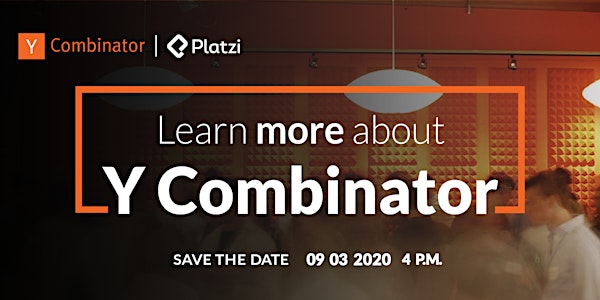 Y Combinator with Platzi
Join Y Combinator and Platzi to talk about how to start a company
About this event
Event Description:
Join us for a talk with Y Combinator partner Jared Friedman and Platzi Founders Freddy Vega and Christian Van Der Henst. Jared Friedman was co-founder of Scribd, which was funded by Y Combinator in 2006 and grew to be one of the top 100 sites on the web. Jared will cover some of the myths that exist around starting startups and he'll talk about how YC can help you get started. Freddy and Christian are founders of Platzi, a Latin American education platform that offers live technical courses in programming, design, marketing, web development, Frontend, Backend, mobile dev, UX and usability. Freddy and Christian will talk about their founder journey and their YC experience. Jared, Freddy and Christian will also spend time answering your questions.
About YC
Y Combinator is a startup fund based in Mountain View, CA. Twice a year YC invests a small amount of money in a large number of startups. The YC partners work closely with each company to get them into the best possible shape and refine their pitch to investors. Each batch culminates in Demo Day, when the startups present their companies to a carefully selected audience of investors. Y Combinator has invested in over 2,500 companies including Stripe, Airbnb, Instacart, Dropbox, Reddit, Coinbase and Ginkgo Bioworks. The combined valuation of YC companies is over $150B.
About the Speakers
Jared Friedman
Jared Friedman is an American entrepreneur and angel investor. He is the co-founder and CTO of Scribd, a digital library and document-sharing platform, which has 80 million users.Jared previously worked at a pioneering AI company and studied computer science at Harvard.
John Freddy Vega
Cofounder and CEO of Platzi- With over 1.000,000 students around the world, Platzi is the biggest tech school in Latam. Platzi aim to transform developing countries into digital economies, training the next generation of professionals in programming, marketing, design and everything related to tech. Before, he founded Cristalab: one of the largest web design communities in spanish (Stack Overflow for Latam) Freddy is Member of Advisory Board at Inpulsa -Management Unit of Business Growth from the National Government of Colombia.
Christian Van Der Henst
Christian is Guatemalan and lives in San Francisco. Co-Founder of Platzi, an EdTech platform that offers online courses in design, marketing, and programming taught by tech industry leaders to help develop professional tech skills. He is an Endeavor entrepreneur and was part of YC W15 target the Latin American market.