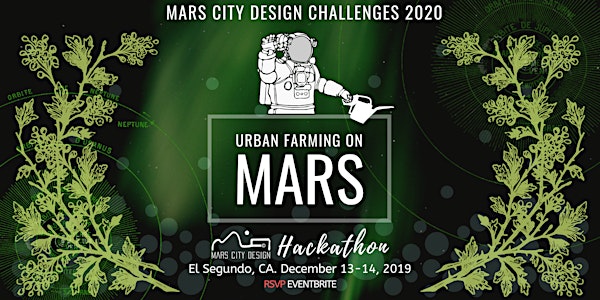 XR Design HACKATHON - Mars Urban Farming
A Mars City Design Challenges 2020 Kick-off. Offering a $20,000 of value: 3DExperience software, Mars Environment and Marschitecture Class!
When and where
Location
Cross Campus 840 Apollo Street #Suite 100 El Segundo, CA 90245
About this event
LIMITED SEATS.
The Future is Martian!
This Hackathon is exclusive to those who will participate in the Mars City Design Challenge 2020 (Registration is open on Day 2). The theme of the Challenges this year is the Mars urban farming, the solutions to sustainability.
Participants' benefits:
1. A one year license of 3DExperience software (with equivalent of USD 20,000.00 value) to facilitate the design content they will be submitting for this Challenge. Mentors will be present to assist participants to gain new XR skill and improve their design visions in the 3DExperience platform.
2. Masters and pioneers, specific to Space architecture and Mars environment, who have been developing the designs of sustainable green houses and the technicality of growing crops in an extreme environment (the outer space or off-Earth) will be present to assist participants to gain more knowledge and discover the red planet from this Challenge.
3. Participants will meet professionals in the space industry and make valuable connections within the Marschitecture community!
This collaboration between Mars City Design®, Dassault Systemes Academy, local Aerospace, Engineering, Industrial Design and Architecture Universities in California, Cross Campus, NASA JSC, VIVE and individual mentors from Space Architecture community will bring a unique direction to further the innovations in sustainable Plant base Food, Medicinal, Fashion and Construction materials, Farming and Agricultural production, bringing all the existing progress to a new application and perspective, making it possible to thrive on Mars.
(LIMITED SEATS. Prices will go up but the waiting list is available)
PREVIOUS MARS CITY DESIGN AR Demo >>>
AGENDA:
Day 1
Morning Session 10:00 AM - 1:30 PM
-Mars City Design® will introduce the game rules for the next 6 months Mars City Design Challenges 2020.
-Speakers: mentors from NASA, Experts of new farming systems, Space Architect, 3D Experience of Dassault Systemes;
Marc Cohen Mission Architecture Lead at Space Cooperative
Gary Stutte President and Founder of SyNRGE, LLC, Specialists in Space Agriculture and Controlled Environment Agriculture, contracting with NASA Kennedy Center.
NASA's Astronaut gardening in Space and their psychological benefit.
Jeff Pernell from Galactic Farms , Alumnis of Mars City Design Challenges 2016.
Farming possibilities for Mars?
Florent Salako Ambassador for North America at Dassault Systemes
About designing the future with 3DXperience. Dassault Systemes (DS) of the 3DExperience software learning and installation.
1:30PM- 2:00PM Light Snack will be provided.
Afternoon Session:2:00PM - 4:00PM
-Introduction of the participants and Teams.
A workshop will be offered to show the best way to present our visions in the Augmented Reality, Virtual Reality or 3D printed model through the DS Platform.
Happy Hour Session 4:00PM - 5:00PM
Networking. Open to non-participants with Cocktail Ticket purchase. AR & VR demo by HTC Vive and Hololens
Day 2
Morning Session: 10:00 AM- 1:00PM Each team will be finalizing their conceptual designs in their respective teams.
Afternoon Session: 2:00PM-3:30PM Presentation of the projects to the judges of the Hackathon.
Final Session: 3:30PM - 4:00 PM
Winners Announcement. The prizes of the Hackathon for the 3 Top Winners include a VIP Tour to a Space company in California.
! Internship Recruitment of California Rocket Company !
Closing Words.
This Hackathon sets up a new perspective on the way we bring the human culture and knowledge to agriculture to the extend of outer space and Martian environment.
RSVP ASAP! Only few seats left. Tickets are not refundable.