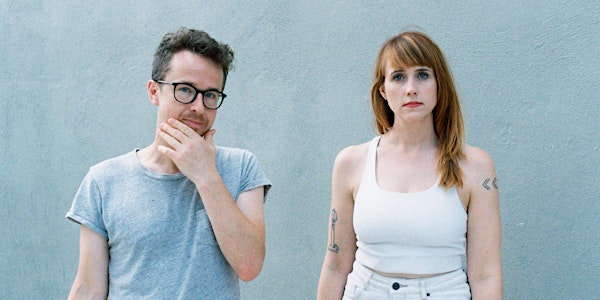 Wye Oak
Wye Oak LIVE in The Masonic Lodge at Hollywood Forever.
When and where
Location
The Masonic Lodge at Hollywood Forever 5970 Santa Monica Blvd Los Angeles, CA 90038 United States
Performers
Headliners
More Performers
About this event
DOORS OPEN 7PM
Limit 4 tickets per household / customer / email / account / CC / address. Purchases that exceed the 4 ticket limit are subject to cancellation. Orders placed for the sole purpose of resale may be cancelled without notice.
The show will be held in a beautiful Masonic Lodge built in 1927. There are no elevators in this historic landmark. Ascending stairs is required to enter the venue.
PARKING IS FREE ON SITE
FREE ONSITE PARKING OPENS 1 HOUR BEFORE DOORS
_______________________________________________________________
For over a decade, Jenn Wasner and Andy Stack have collaborated under the moniker Wye Oak, aband known for "forging an audacious creative path" (NPR Music). Their partnership, long imbued witha sense of ambition and restlessness, has transcended genre, growing and shifting over the course offive critically acclaimed full-length records, including last year's The Louder I Call, The Faster it Runswhich The New York Times called "the sound of a band simultaneously delving deeper into its musicand opening it up". Those paying close attention to the duo will also have noticed a list of additionalaliases, collaborations, and experimentations that have fallen outside of the parameters of the projectfor which they are best known.
The past few years have been an especially fruitful period for the duo outside of Wye Oak- includingreleases from their solo projects, Wasner's, Flock of Dimes and Stack's, Joyero, touring as members ofBon Iver, Sylvan Esso and Lambchop, as well as collaborating as producers, composers andmulti-instrumentalists with everyone from the Brooklyn Youth Chorus and Metropolis Ensemble, toDeerhoof, Helado Negro and Madeline Kenney. Wasner and Stack have been intrinsically woven intothe fabric of the progressive musical landscape of the past decade.
Along the way, the duo have prioritized setting aside time to rediscover why their collaboration hasbeen an integral part of their creative expression for close to fifteen years. With Wasner and Stackliving in the same city, their adopted home of Durham, NC, for the first time since 2012, they havebegun to chart a new path. Suddenly free to re-examine and rework the pre-existing confines of theirpartnership, the duo returned to the studio in the summer of 2019. The result is the most generous anddaring material of their career. The first look into this new music is the searing single, "Fortune," abombastic excavation of change and loss, mourning and resilience. "Fortune" is a high water-mark inan already celebrated catalog—indicative of the kinetic propulsion with which Wasner and Stack pushtheir art forward.
In addition to releasing new music, the band is mounting their most ambitious tour yet. The tour, JOIN,will feature Wasner, Stack and a newly expanded live band performing music from all of their variousprojects- Wye Oak Flock of Dimes, Joyero and beyond. These performances will be rare, featuring newmaterial, re-imaginings of songs from deep in their catalog, and hidden gems spanning their parallelcreative work with the primary intention to present what feels most significant in the moment. At almostfifteen years in, Wye Oak continue to search, to ask questions, to experiment and to take the risks thatmake them one of the most vital creative collectives of their generation.