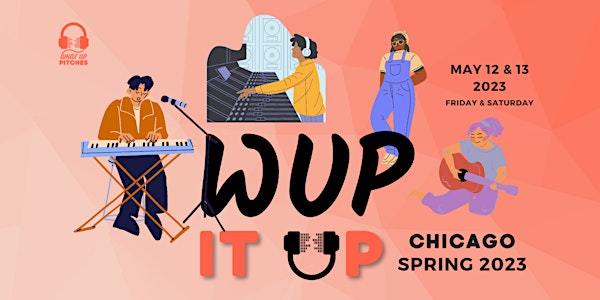 WUP It Up! Sync Fiesta 2023
What Up Pitches' in-person sync event! Panels, pitching sessions, listening fiesta, networking, and a mini-Crafting The Tune!
Date and time
May 12 · 9:30am - May 13 · 7pm CDT
Location
Davis Theater 4614 N Lincoln Ave Chicago, IL 60625
About this event
1 day 9 hours

Mobile eTicket
After the huge success of the first WUP IT UP in April 2022, of course we're doing it again! You won't want to miss it because…..no one throws a Sync Fiesta like the WUP ladies do!
As a Chicago based company, we're excited to bring you another WUP It Up in Chi-town, the city that's filled to the brim with ad agencies. All the more reason to host an ad focused sync conference here in this amazing city! Guests will include top music supervisors and music executives from some of the biggest ad agencies in the world.
Go to our website for all the details! https://www.whatuppitches.com/wupitup
DAY 1 includes:
● Pitching Sessions:
Exclusive and limited 1-on-1 sessions where you will get a chance to bring your best songs and have a top music industry executive listen to them. Or maybe you'll just want to chat with them for a little while and get to know them? Use your time wisely 😉.
● Listening Fiesta 🎉:
There's NO way we're not having a Listening Fiesta during our first in-person event! Submit your songs and the WUP team will randomly select some to be played for the music supervisors. They'll receive live feedback during the event! The WUP team will also hand-pick a few as "contest winners".
● Panels:
Throughout the day, we'll have special guests on stage. Music supervisors will talk about the projects they are working on, their needs, and share tips. We'll share some success stories and hear their "Road To Sync". We'll also have some panels with female producers killin' it in the game! And more...
These can include music supervisors who work with Ad agencies placing music for Facebook/Meta, Chase, Pepsi, Adidas, Skittles, Apple, Target, Jeep, Nike, LG, Nintendo, and many more.
●Showcase 🎶:
Show off your talent! Submit your music to be invited to perform at our WUP showcase which will take place Friday night. You'll receive the submission link once you get your ticket.
●Giveaway 🎙 and Networking:
SHURE is one of our proud sponsors!! We'll be doing a giveaway of SHURE headphones, SHURE microphones, WUP merch and others! Learn how to enter the giveaway once you get your Friday ticket or the Friday/Saturday Bundle.
Stick around and mingle with attendees and panelists! Set up a co-write or two, have some dinner, relax and enjoy. Starting as soon as the panels are over and also in between panels. A priceless sync licensing conference experience.
DAY 2 includes (you can choose one of these to join, they happen simultaneously):
●Mini Crafting The Tune 🔥 - Limited Spots
Since early 2021 What Up Pitches has been hosting "Crafting The Tune", a 4-week immersive workshop where artists & producers create a song under the guidance of music supervisors & the WUP team.
For our in-person event, we will have a Mini Crafting The Tune where music supervisors will come in and share their active briefs. You'll be divided into groups to create songs for these briefs. By the end of the day, you'll have a chance to present your song-in-progress to the music supervisors, the WUP team and your peers. You will also receive feedback from the music supervisors. More info on our website whatuppitches.com
●Co-write sesh
Full day of co-writing, creating, songwriting, and having fun! You'll be given some briefs and you can decide who you want to co-write with! We suggest working with new people because you never know if you'll meet your next partner in sync crime.
You'll then have two weeks to finish up your song (no demos) and submit it to a private link for the WUP team to hear it and consider adding it to their catalog! Let's make some music!
----------------------------------------------------------------------------------------------------
THERE IS SO MUCH MORE! Check out website to see panelists/guest speakers and please let us know if you have any questions. We can't wait to see you there!
Check out highlights from the first WUP It Up below! Song "Oh Yeah" by Cinder Ernst and Mr. Phelps