Description
UX Design for Good or Evil? Good UX Causes Delight and Bad UX Causes Problems
As UX designers, we're aware of the influence that design wields on behavior—but even the most well-intentioned designs can have unintended consequences. This year's theme is an invitation to examine our designs and find ways to improve the world through better usability. Join fellow user experience practitioners for discussion, good food, and great raffle prizes!
Free and open to all who wish to attend; space is limited.

Raffle & Prizes
We will end the event by raffling off three great prizes -- an iPad, an instant camera, and a pack of heyday electronic accessories. Each attendee will be entered to win, and you must be present to win.
5:30 – 6:30pm: Networking Happy Hour
Food and drinks provided
6:30pm: Welcome
Jonathan Mann, Senior Director of User Experience and Accessibility, Target
6:35pm: Design Systems Against Evil
Target's Design System team believes in the power of a community of makers to create great things. This group of experts will share how a design system institutionalizes and records learned experiences to help us avoid perpetuating the intentional and unintentional use of evil UX patterns.
Chris Hansen, Lead Accessibility Consultant, Target
Juliano Silva, Lead Product Designer, Target
Geoffrey Pursell, Lead Product Designer, Target
6:55pm:
Algorithms and Ambiguity, Emily Callaghan
Let's consider the intersection of emerging technologies and design and how this overlap will increasingly shape our work -- from our design process to outcomes and implications.
Emily Callaghan is the owner of DESIGN+, a Lecturer at Stanford's d.school, and Board member of the College of Design at the University of Minnesota


7:15pm: Designing Towards Good, Maggie Ollove
Designers don't set out to design in ways that harm people, but we hear stories of that happening in our politics, in consumerism, in social services. At the outset, the ban on straws in cities, such as Seattle and San Francisco sounds like a great idea – it helps the environment and reduces waste. But talk to someone with disabilities and you may hear about the burden this decision places on them. Similarly, requiring voters to provide an address to register makes sense until you chat with a citizen without an address.
As designers working to solve complex problems, we can't know everything. But every day we make decisions that can alienate people or nudge us towards inclusive design. The problems that we highlight, the people we include (or exclude), and how we choose to communicate has big impact. So how do we design towards good?
Join Maggie Ollove from the Center for Civic Design as she shares stories, tips, and ideas about how to move design towards good. You'll leave with ideas on how to broaden your research and be more inclusive.
Maggie is a Service Designer and Civic Researcher at the Center for Civic Design
7:50pm: Raffle Winners Announced & Closing Remarks by UXPA
This event is made accessible with CART and descriptive texting.
A CART (real-time captioning) provider will use software to display everything that is said during the presentations word-for-word on a television screen for the audience.
Amber Holladay, Lead Accessibility Consultant at Target, will use GroupMe to provide descriptive texting. She will write short descriptions of the visual information during the presentations and send them out to anyone in her GroupMe meeting. If you want to receive descriptive texts during the presentations, email us at accessibility@target.com. Please include your phone number or GroupMe username.
If you require further assistance or an accommodation to experience this event, please contact accessibility@target.com.
Parking Near Target Plaza Commons
Several parking ramps nearby include: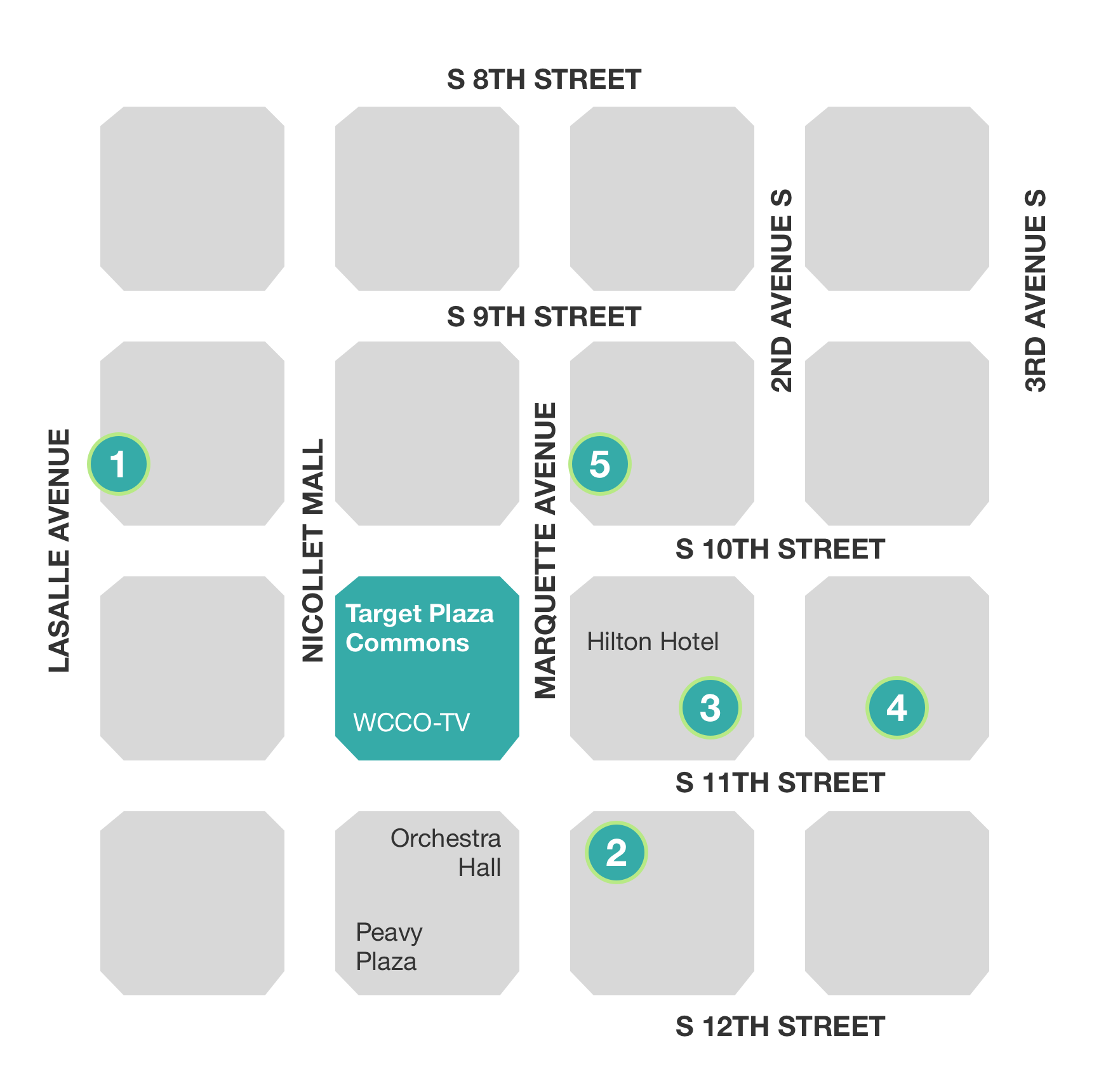 1. Retek/Target Store Building: enter on Lasalle Ave between 8th and 9th Streets
2. 11th & Marquette Municipal Parking Ramp: 11th Street and Marquette Ave
3. Hilton Municipal Parking: 11th Street and Marquette Ave
4. Leamington Transit Hub: 11th Street and 2nd Ave
5. Mar-Ten Ramp: 10th Street and Marquette Ave