About this Event
Stay Tuned for details on how to win VIP tickets!
Brought to you by 93.7 WSTW and VPM Events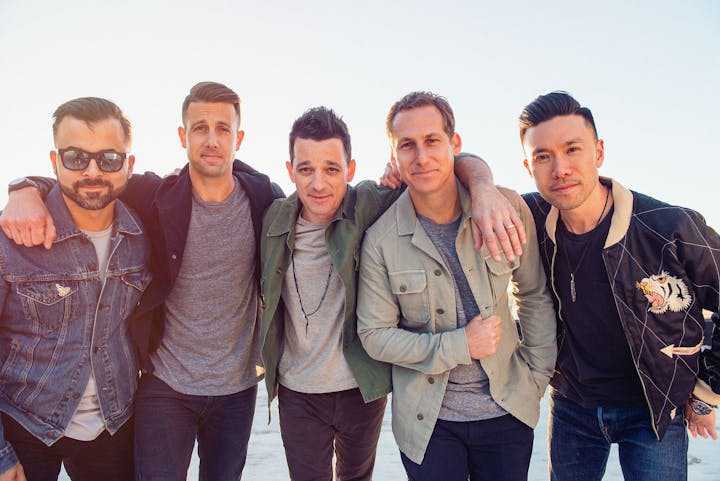 By the end of 2008, O•A•R had released six studio albums and three live double disc CDs. To date O•A•R has sold close to 2 million albums and more than 2 million concert tickets, including two sold-out shows at New York City's Madison Square Garden and Red Rocks Amphitheater in Colorado.
In 2011, O•A•R's album, King, debuted at No. 12 on the Billboard 200 chart, No. 3 on the Billboard Digital Album Chart, and was No. 3 on iTunes. King was the follow-up to the band's 2008 release, All Sides, which contains the platinum hit single "Shattered."
The band's album, The Rockville LP, debuted at #1 on the Billboard Independent Albums chart and #6 on the Top Current Rock Albums chart, hitting the top spot on the iTunes Rock Albums chart and #3 on iTunes Overall Albums chart and featuring the songs "Favorite Song", "Two Hands Up" and their smash hit, "Peace."
O•A•R has performed on such national TV shows as The Today Show, Live with Kelly and Michael, CONAN, and at the 2015 Special Olympics Opening Ceremony. In 2015, they performed in New York City's Times Square New Year's Eve Celebration to a live audience of over 1.5 million in addition to the worldwide webcast reaching millions of fans!
2016 marked the band's 20th anniversary with the release of their new album, XX; a career-spanning collection shining a light on key moments from the band's illustrious career and featuring two new songs including the new single "I Go Through," which was written and recorded as the cameras rolled during the captivating six-part docu-series Evolution of a Song. O•A•R kicks off 2018 with the release of a new single "Just Like Paradise," and the announcement of a national summer tour.

Coming from a hefty resumé of tours and festivals straight out of high school; Val Astaire, who began his career fronting Philadelphia based punk outfit 'Major League' has spent the better half of a decade in over 60 countries and supporting the likes of such bands as Jimmy Eat World, Mayday Parade and The Starting Line as well as 2015/16's summers on The Van's Warped Tour.
Working with producer and engineer, Christopher Curran of Reclaim Music Studios, Val Astaire has taken both visually and sonically a persona he can only describe as "Salvador Dali meets Broadway to an 80's soundtrack", and ran with the creative freedom - everywhere from building entire rooms and directing/filming his own music videos to painting and drawing his own album art.
Val Astaire released the first single of what was to come; "Blow", in 2017 which was described as "a cross between The Weeknd meets The Cure playing the Breakfast Club" by Substream Magazine. "The No Funs" was the second single released bringing in the New Year with an all new aesthetic visually; portraying an almost porcelain doll persona. Both singles were accompanied by music videos directed, filmed and edited by Val Astaire.
In August of 2018, Val Astaire teamed up with creative directors and film artists James Morano and Laura Murray to debut the first single off of Val's debut ep "Yellow". "Fall Apart" was shortly followed by the opening track "Rebel" on October 8th before the ep's official release on November 9th, breaking over 10k streams first weekend.
In the months following Fall Apart's debut, Val Astaire embarked on a promotional tour of the United Kingdom and Ireland as well as a run of US shows with the Baltimore Indie Pop band DRMCTHR.
Whitney Woerz is a 17 year old American singer/songwriter who has made a mark with her talent across radio and online platforms, engaging fans worldwide with a soulful richness and depth that belies her age.
Her recent single "Idea of Her" has been rotating on various Sirius XM channels and terrestrial stations while garnering her over 20MM on YouTube since launching seven months ago. This fall, she joined Brooklyn and Baily's Digi-Tour as an opening act for the Streamy Award winning duo and social media stars.
Whitney's gifts come in the form of storytelling to her audiences in an organic way, focusing on the highs and lows of life and the challenges of friendship, love and emotions. Her last single and video "Ghost Story," was an homage to teens struggling with balance and mental health. The video, directed by Academy Award nominated Liz Garbus, has seen more than 18MM and launched Whitney's impactful social media presence with her music and musings.
Whitney has appeared on numerous television shows and events supporting her music, including a segment on the nationally syndicated day-time talk show The Doctors bringing attention to her alliance with Glenn Close's charity, Bring Change 2 Mind - a charity that strengthens mental health awareness and showcases Whitney's song "Ghost Story". She held a spot on NBC's ‍Today Show with an appearance on Elvis Duran's segment "Artist of the Month" where she performed another of her hits "6 Second Love," and has performed live on the 2015 American Music Awards red carpet.
Performers
Date and Time
Location
Refund Policy