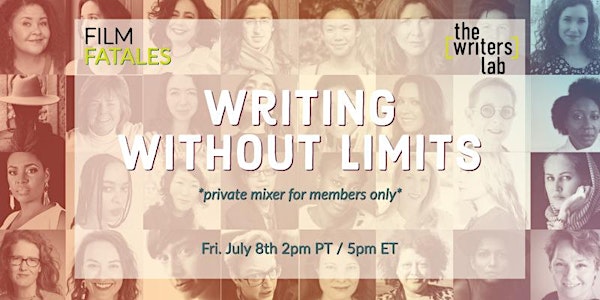 Writing without Limits
Members of Film Fatales and alumni of The Writers Lab are invited to a private networking mixer for feature film directors and screenwriters
Date and time
Friday, July 8, 2022 · 2 - 3pm PDT
Refund Policy
Refunds up to 1 day before event
Eventbrite's fee is nonrefundable.
About this event
Members of Film Fatales and The Writers Lab are invited to a virtual community mixer!
Eager to meet creative collaborators? Excited to share details about your latest passion project? Missing the company of like-minded artists? We will begin with a group "getting to know you" exercise facilitated by Leah Meyerhoff, founder of Film Fatales, and Elizabeth Kaiden and Nitza Wilon, co-founders of The Writers Lab, before dividing up into smaller discussion circles for meaningful conversations based on a series of guided prompts. Co-hosted by Film Fatales members Charise Studesville, Stacie E. Hawkins and Donna Bonilla Wheeler.
We invite all participants to fill out this Skill Share Form in advance to build deeper connections. Responses will be shared after the mixer. Plan to show up as fully as if we were together in person (with cameras on). This session will not be recorded to create a safe space for participation. This private event is for Film Fatales members and TWL alumni only. The registration link will be shared the day of the event. See you there!
Charise Studesville is an award-winning writer and director via her production company, Lotus Girl Films. She began in the business as a weekly Chicago-LA commuter Hollywood intern, while working for Debra Martin Chase as her entry into the entertainment business. She is the founder of Hollywood Chick Mafia, ""a community of creative rebel chicks in Hollywood, supporting each others' badassery," and hosts weekly rooms on Clubhouse in support of women in the industry. Charise has several projects in film, television, and publishing, including the first ever mixed-media memoir, a tale of a biracial girl's coming of age amidst the circus of 1980s New York City zeitgeist, that includes 50+ original mixed-media art works. The 2023 companion art shows will mark the first time her art has been publicly shared since Jean-Michel Basquiat put a paintbrush in her hand. Additionally, this year will see the launch of a women-driven design business venture with business partner, Ananda Lewis. Charise is a 2022 WIF Multi-Hyphenate Mentee, under mentors Marta Cunningham and Alissa Bachner. With the 2022 release of Aged To Perfection, Charise became a USA Today Bestselling author, with a follow-up release, The Perks of Being A Hoodoo Rose, set for Spring 2022.
Peruvian-American Donna Bonilla Wheeler is a mixed race writer, director, and filmmaker. She writes about underdog non-mainstream characters fighting oppressive cultural norms, and who possess extraordinary powers, talents, humanity, or insight. Her original screenplays are Nicholl SFs, Austin 2nd Rndrs, Slamdance, Gotham NoBorders, and STOWE Story Labs selects, Sundance Lab and FLICKERS finalists, The Writer's Lab and CineStory SFs, Sedona Fest QFs, and DTLA Film Fest screenplay award winners, among others. Donna created and is developing the CannesMIPTV invited TV series CLASH, a Latina-led political mystery drama. Her feature and short films sold at Cannes and Berlinale markets, and screen in global festivals, as well as stream on international SVOD / AVOD platforms. She is a MIPTV Producer-to-Watch, Alliance of Women Directors Executive Board Member, Industry Support Fellow, Film Fatales member, a #Startwith8Hollywood, #ReadLatinxWriters, and Women in Film mentee, Sundance Institute Collab member, and Outfest Directing Shadow. She serves on the Board and Jury of the comedy film / TV festival for women, Broad Humor Film Fest, and is creator of the Alliance of Women Directors' #MentorLatinaDirectors initiative. She additionally writes and directs branded, commercial content for global clients.
Stacie E. Hawkins is an independent filmmaker from the Midwest who now lives in the Los Angeles area. She received her M.F.A. in Film & TV Production from Chapman University and studied TV writing at UCLA Extension. Her feature, The Rise and Fall of Miss Thang, is about a tap dancer who finds her way back to dance after a family tragedy. It won Best Feature at both The San Francisco Women's Film Festival and The Independent Black Film Festival of Nashville and is streaming on Tubi TV. Stacie currently has two shorts on the festival circuit and they both screened at the Oscar qualifying 2022 Pan African Film Festival. Her original one-hour fantasy pilot script, Night Watchers, is an Expanding Communities selection for the 2022 Gotham TV Series Lab. She is being mentored by Becky Clements of Tomorrow Studios through the Unlock Her Potential Program and was a finalist for the 2022 Orchard Episodic Lab and the 2021 Nantucket Screenwriters Colony.
FREQUENTLY ASKED QUESTIONS:
Who is participating?
This private event is is for Film Fatales members and TWL alumni only.
Will this be recorded?
The mixer is focused on creating a grounding and meaningful space for community check ins and will not be recorded to create a safer space for active participation.
Will I need to turn my camera on?
Yes, we encourage you to turn your camera on for this conversation.
When will I receive the link to join?
You will receive the Zoom link upon RSVP and a reminder will be sent the day of the event. See you soon!
What else can I expect?
Upon arrival you will be placed in a waiting room until the event begins. Plan to log in a few minutes early to check your tech. Please mute your audio and adjust the lighting in your space so other participants can see your face.
We are committed to creating a safe space where filmmakers can gather and support one another. Be respectful to other participants. Do not screenshot or record without consent. Avoid assuming people's needs, identities, and backgrounds. Creating an inclusive space requires acknowledging existing power dynamics. If you are from a dominant or privileged identity please practice making space through listening, unseating yourself, and passing the mic. If you are from a historically marginalized group, practice taking up space by sharing your ideas, and raising your voice. Thanks for joining us!
Film Fatales is a non profit arts organization which advocates for parity in the film industry and supports an inclusive community of over a thousand feature film and television directors of all marginalized genders. We raise the visibility of marginalized directors and expand the talent pool for decision makers looking to work with underrepresented voices.
The Writers Lab is the only program in the world devoted exclusively to script development for women-identifying writers over 40. The Lab is presented by co-founders Elizabeth Kaiden and Nitza Wilon, with New York Women in Film & television, and in collaboration with the Writers Guild of America, East, with in-kind support from The Black List, Falco Ink, Film Fatales, Filmarket Hub, Final Draft, and Roadmap Writers.
Capacity is limited. Your participation constitutes your consent to being photographed during the event and to Film Fatales sharing those photos with the world. Please contact us if you require an accessible accommodation.
About the organizer
Film Fatales is a 501(c)3 non profit arts organization and talent discovery platform which supports a membership community of over a thousand feature film and television directors of all marginalized genders. We advocate for hiring equality and inclusive programming practices by working with key decision makers to expand the talent pool and raise the visibility of underrepresented creators. Together we can build a more equitable film industry for us all.