Multiple Dates
Writing & Pitching Classes w/LiteraryAgent, Author & Producer Marilyn Atlas
Event Information
Refund Policy
Contact the organizer to request a refund.
Eventbrite's fee is nonrefundable.
Exciting Character Development & Pitching Seminars w/award-winning Hollywood Talent/Literary Manager, Producer and Author, MARILYN ATLAS.
About this Event
Have an idea for the next great film, play or TV series?
Don't miss these seminars for authors, screenwriters, playwrights, directors & producers!
Seminar #1: Saturday, January 23, 2021
3:00pm - 5:00pm (EST) - COMPLETED -
Creating Memorable Characters
Some writers talk about creating connections with their characters so deep that the characters feel like real people. But how do you bring memorable, three-dimensional characters to life enough to make that connection?
In this class, equally suitable for fiction writers, screenwriters, and TV writers, we will view and analyze various movie and TV scenes and dissect them to see what makes the characters memorable. You will learn the power of subtext: how to embed details of motivation—thoughts, wants, goals, secrets, flaws, and delusions—into physical behavior, speech patterns, and specific habits that echo throughout your story. You'll receive handouts and a series of questions you can pose for your own work, as well as analysis of scenes and Q&A. Come to class with your most important characters in mind, and leave with a better understanding about how to bring them to life. We will also do some character exercises from Marilyn's co-written book "Dating your Character."
Cost: $55 for adults, $45 for students (take both classes and SAVE $15)
Seminar #2: Saturday, January 30, 2021
3:00pm - 5:00pm (EST)
The Importance of Pitching
What to include and not include in your pitch
Adapting your pitch to the audience you're pitching to
Mistakes that writers make when pitching
Understanding the market and projects worthy of pitching
Importance of the hook
Refining your pitch
How to distill the essence of your story into short, sharp, easily digestible bite-size parts
Learn to strike the right balance between brevity, colorful detail and cliffhanging suspense
Effective buzzwords to use in a pitch
The pitch is not a tease or a trailer, it is a way of leading your audience through the major beats of the story, with attention paid to how the protagonist changes along the way.  Marilyn will work with brave volunteers to tighten and reveal the idiosyncratic narrative thrust of your story… assuming there is one!
Know the difference between a log-line, an elevator pitch, a 10-15 minute pitch. Learn the importance of your pitch depending on who you're pitching to!
Bonus: 3 or 4 people will have the opportunity to pitch to Marilyn during the seminar!
Cost: $55 for adults, $45 for students
Class sizes will be limited to allow for interaction and Q&A's with Marilyn.
Any questions, contact us at info@berkshirefilm.org
ABOUT MARILYN ATLAS:
Marilyn R Atlas is a Hollywood Talent/Literary Manager and Producer. Atlas has long been committed to diversity and portrayal of strong female protagonists. She's the producer of the HBO Sundance winning film "Real Women Have Curves" (in development as a Broadway show) and "The Choking Game" on Lifetime amongst other films. Marilyn also produced several plays including the award winning "To Gillian on her 37th Birthday" and (Ashman Menken) "God Bless You Mr. Rosewater" as well as "Detained in the Desert" at the Guadalupe Theater in San Antonio among other plays. She has spoken at numerous writers' conferences throughout the US and Europe. She's currently developing projects based on diverse characters such as the Gary Phillips crime books and the award-winning middle school book series, "The Code Busters Club" for television, as well as developing a limited series in conjunction with Maten a Chinese-based production company. She's also developing a TV project based on the manuscript, "Trouble With Dreamers". She is the co-author of a relationship-based, screenwriting guide called "Dating Your Character," – Stairway Press, Fall 2016.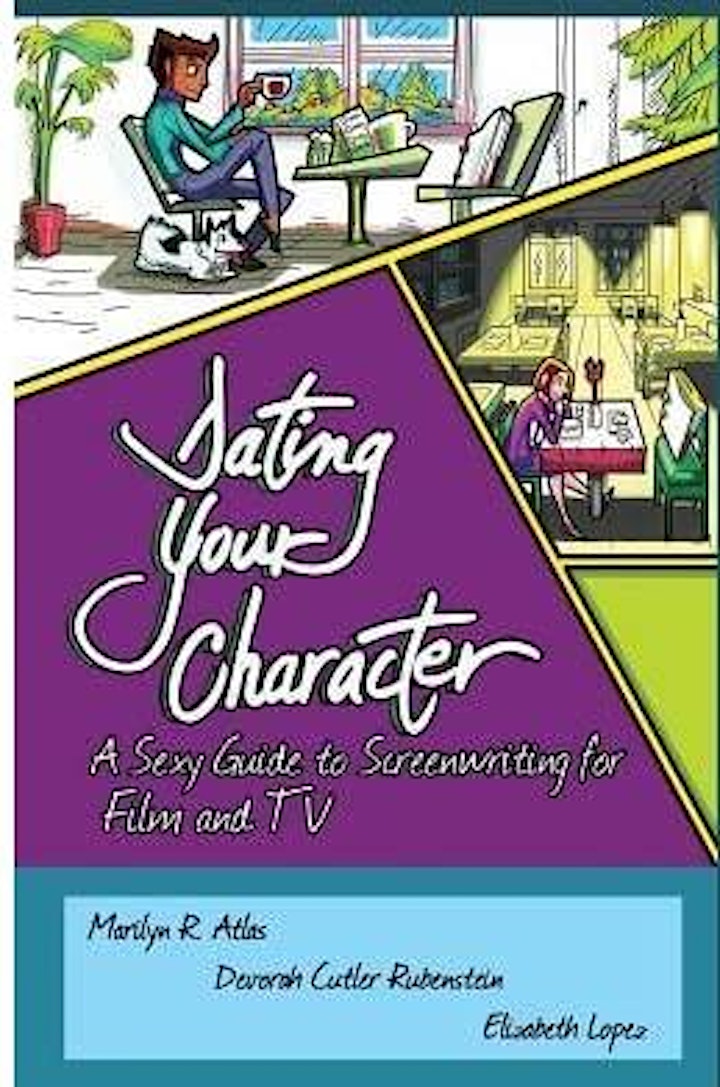 Location
Refund Policy
Contact the organizer to request a refund.
Eventbrite's fee is nonrefundable.