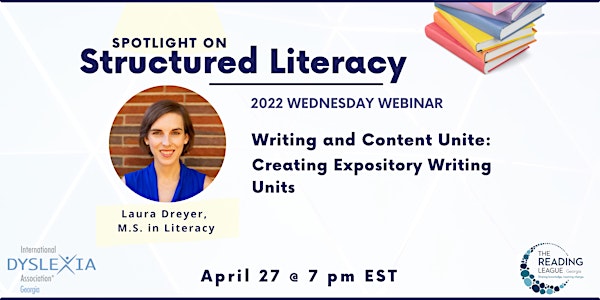 Writing and Content Unite: Creating Expository Writing Units
Learn about the empowering potential of uniting content and writing instruction.
About this event
Teachers always want more time to engage their classes with meaningful content and sharpen students' essential writing skills, so why not combine these endeavors? During the session, participants will review the empowering potential of uniting content and writing instruction. Then they will be presented with a process to follow to create expository writing units on any topic. Examples of sentence, paragraph, and essay activities will be shared at a variety of grade and skill levels.
There will be time for Q & A at the end.
You are invited to submit a question when you register as well as during the event.
Laura Dreyer is a teacher at The Schenck School. Before moving to Atlanta, she worked at The Windward School in New York as a teacher and staff developer. For more than a decade, Laura has supported students with language-based learning disabilities, their teachers, and their parents through classes, presentations, mentoring, and private tutoring. Laura earned a master's degree in literacy and holds certification from the International Multisensory Structured Language Education Council (IMSLEC) at the teaching level._________________________________________________________________________
A NOTE ON REGISTRATION: After registering, you will receive a confirmation email. If you do not see that email, please check your junk mailbox.  You might want to save the confirmation email. The email includes a "View the Event" button. When you click on that button, you will be asked to "Sign up or Log In."  Create an Eventbrite account (username and password) or click on "Continue with Facebook" or "Continue with Apple."  This extra layer of protection for our attendees and will allow you access to the registrant-only event page.
Thank You to Our Sponsors
It is with the continued support of our sponsors that we are able to offer not only scholarship and grant opportunities but also events like this that are free and open to all those interested in learning more about dyslexia and effective interventions.