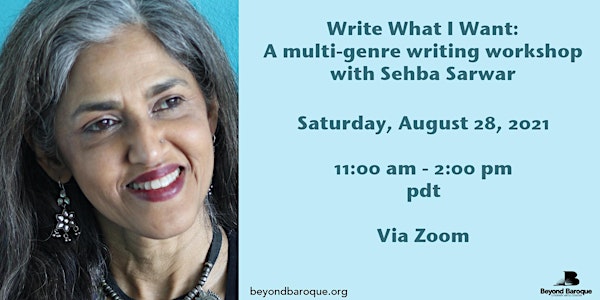 Write What I Want: A multi-genre writing workshop with Sehba Sarwar
An online workshop for writers to explore voice through multiple genres – poetry / fiction / non-fiction / hybrid - with writer Sehba Sarwar
About this event
"Don't plan it all. Let life surprise you a little."
—Julia Alvarez, an icon who produces poetry, nonfiction, novels, young adult publications and more
Join us as we transfer life's surprises onto our pages to create new work. When we live a moment of loss, joy, or the humdrum of day-to-day living, we may be inspired to create a story, write a poem, and pen flash fiction. During a workshop with Sehba Sarwar, exciting texts will be provided to open out pathways to create space for writers to explore multiple genres for varying moments. Participants will be offered space to create multi-faceted text through which they can tackle larger projects.
*One scholarship will be awarded to a QTPOC/BIPOC L.A.-residing individual who would like to join but does not have the means to do so. Please email us if interested at info@beyondbaroque.org
A Zoom link will be provided to all registered participants 24 hours before and on the day of the workshop.
About the facilitator:
SEHBA SARWAR creates essays, stories, poems, and art that tackle displacement, migration, and women's issues. Her essays and poems have appeared in the New York Times Sunday Magazine, Asia: Magazine of Asian Literature, Creative Time Report and elsewhere. Her short stories are anthologized in Feminist Press, Akashic Books, and Harper Collins India, while the second edition of her novel, Black Wings, was released in spring 2019 (Veliz Books). With twenty-five years of writing and teaching experience, Sarwar offers workshops at university campuses, high schools, and community spaces. Born and raised in Karachi, Pakistan in a home filled with artists and activists, Sarwar is based in Los Angeles, California, where she writes, teaches, and creates art.