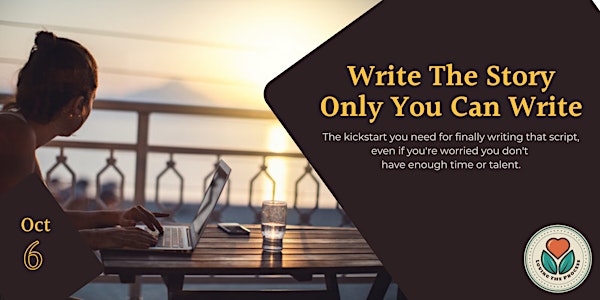 Write The Story Only You Can Write
Tips for finally writing that book or script, even when you're sure you don't have enough time or talent.
About this event
If you're in danger of never writing that unwritten story inside you, and are looking for a kick start to get you moving in the right direction, then you'll want to sign up for our upcoming Webinar / Q& A
About this event
Wouldn't it be nice to finally give yourself the gift of getting started on that book (or script)? Then join us, and your fellow storytellers, for an inspirational evening where you'll learn some quick tips and tricks to help get you started right away.
You should join us if...
You know you have great stories, but you have no idea how to get started writing that book or script.
You know how to get started, but feel like you never have enough time.
You're secretly afraid that even if you did have enough time, you might not have enough talent.
What you can expect...
Quick intros and relaxation exercises to help set the creative space.
A transformative discussion around time/talent that will show you a new way of looking at writing/storytelling and where/why it must fit into your life.
A 15-minute guided writing prompt exercise that will leave you with a clearer picture of the story you want to tell, as well as a technique you can use over and over again to help you tell it. It's all about process!
Guidance on getting started and finding the right process / writing lifestyle for you, to support your success in completing the marathon that is writing a book/script.
And finally, we'll close with a Q & A session.
This event starts promptly at 7:00 pm EST. Be ready with your favorite writer's beverage and/or snack and something to write with. Your writing journey starts now!
________________________________________________________________________________________________
About The Presenter
Holly Payberg-Torroija is a writer, writing coach and founder of Loving The Process, where she is committed to helping storytellers get out of their own way, so they can dig deep and write the stories only they can tell, while learning to love the process. She draws from her 20-plus years of experience in development/production, working with some of the biggest names in Hollywood, to coach writers through every step of the process from concept to completion.
For more info about Holly click here
To see a quick announcement from Holly click on the video below..