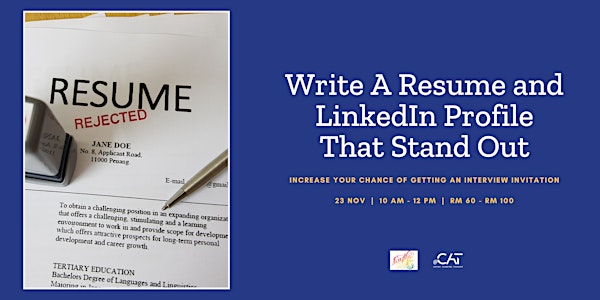 Write a Resume and LinkedIn Profile That Stand Out!
Turn your resume rejection to an interview invitation!
When and where
Location
aCAT Penang Level 3, Wisma Yeap Chor Ee 16 Gat Lebuh China George Town, Pulau Pinang 10300 Malaysia
About this event
Acquire the master key that will open the doors to interviews for your dream job your whole life. Learn the secrets to writing a killer resume that sets you apart from the rest of the competition. This knowledge will serve you for the rest of your career.
To land an interview for your dream job, the first ticket you need to invest in for a rewarding career is your written resume and a professional LinkedIn Profile.
There's only 12 spots available!
Key Takeaways:
An impressive resume to wow your prospective employers
The key contents that make an amazing work profile
Landing an interview for your dream job
Things to bring:
PC
Power adapter
Your resume (soft editable copy)
Speaker
Tho Mun Yi is an experienced writer who has helped job seekers to land interviews for job positions. She is an experienced writer who conducts corporate training on writing to companies like National Instruments, Dyson, Silterra, and MIMOS.
You can google her name Tho Mun Yi and see her body of work or visit her LinkedIn profile or website as follows:
https://www.linkedin.com/in/mun-yi-tho/
https://www.mythosays.com/
Agenda
10.00 am - Mun Yi will share her resume and/or LinkedIn profile writing tips and tricks.
10.30 am - You will update your resume and/or LinkedIn profile.
11.00 am - Mun Yi will review your resume and/or LinkedIn profile.
11.30 am - We will discuss the feedback.
11.45 am - Q and A.
Disclaimer: aCAT is not affiliated with this writer's workshop and does not support any events that touches on political, sexual, religion and controversial topics aCAT and the management finds inappropriate.
Payment Option
You may bank-in/ online transfer to the following bank account :
Name: Ayuh Bina Sdn Bhd
Bank: CIMB Bank
Bank Acc. Number: 8008424467
Once you are done, kindly email to khernee@acatpenang.com with your proof of transaction and mention which event it is for. Do include also your Name and Email and Tel No. We will process your ticket accordingly. Please allow 24-hours response to process your order.
Please note the Refund Policy is NO REFUND. Thank you.
Parking:
Parking is available at the vacant MBPP car park lots along the street, alternative to park at Victoria Garden Hotel's parking as it is a 3mins' walk to aCAT Penang.